WASHINGTON - The United States will announce next week a series of arms deals worth at least 20 billion U.S. dollars with Saudi Arabia and five other oil-rich Persian Gulf states as well as new 10-year military aid packages to Israel and Egypt, the Washington Post reported Saturday.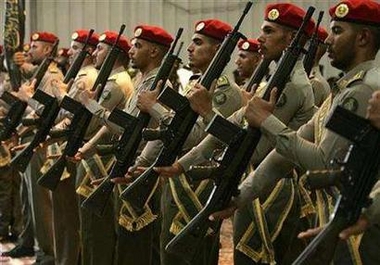 A file photo of Saudi police graduates attending a graduation ceremony in Riyadh June 26, 2007. The Bush administration is preparing to ask Congress to approve arms sales totaling $20 billions over the next decade for Saudi Arabia and its neighbors, The New York Times reported in Saturday editions. [Reuters]
The purpose of the military aid packages and arms sales is to strengthen pro-Western countries against Iran's growing influence in the region, the report said.
The arms deals, which include the sales of a variety of sophisticated weaponry, would be the largest negotiation by the Bush administration.
The military assistance agreements would provide 30 billion dollars in new U.S. aid to Israel and 13 billion dollars to Egypt over 10 years.
The two figures represent significant increases in military support, the newspaper quoted unidentified U.S. officials as saying.
The arms deals have quietly been under discussion for months despite U.S. disappointment over Saudi Arabia's failure to support the Iraqi government and to bring the country's Sunni Muslims into the reconciliation process.
U.S. officials said the arms sales to Saudi Arabia are expected to include air-to-air missiles as well as Joint Direct Attack Munitions, which turn standard bombs into "smart precision-guided bombs".
Most, but not all, of the arms sales to the six Gulf Cooperation Council countries -- Saudi Arabia, the United Arab Emirates, Kuwait, Qatar, Bahrain and Oman -- will be defensive, the officials said.