Premier Wen Jiabao on Friday pledged a basket of measures to improve food safety and product quality after a spate of safety scares concerning Made-in-China products.
The measures included higher market access requirements and safety standards, better law enforcement and more transparent information disclosure.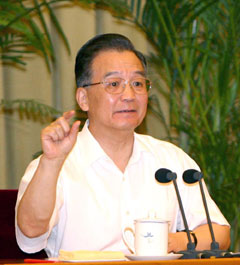 Premier Wen Jiabao speaks at a meeting on product quality in Beijing July 27, 2007. [Xinhua]

"Food safety and product quality concerns people's health, a producer's credibility and a country's image. Therefore, full attention must be paid to the issue," Wen told a national working conference on product quality.

He called for improvements in the following six fields.

Improvement to the market access mechanism and the elevation of quality standards for products that concern people's health and safety.

To update China's quality standards according to international standards.

To strengthen supervision on food and product quality throughout the whole production process.

To speed up amendments to relevant laws and regulations including the Food Hygiene Law and the Frontier Health and Quarantine Law.

To launch crackdowns against illegal small food processing plants in the vast rural and suburb areas.

To establish a transparent and rapid information disclosure system and publicize quality information to ensure the public is well informed.

The premier stressed that problems also existed in law enforcement. He said many violators did not receive the punishment they deserved, and the fines were often much less than what they earned from their illegal activities.

He said the laws should be strictly enforced and punishments meted out according to the laws.

In response to some media reports on allegedly unsafe Chinese toothpaste, seafood, toys and even tires that had fanned global concern about Chinese products in general, the premier said China is a responsible country that always attachs great importance to product safety.

"We squarely face our problems and would like to solve them with other countries through dialogue, discussion and investigation," Wen said. "We know that good quality is the most persuasive argument, and we are making consistent efforts to improve it."

He said China would like to work together with the international community to improve product safety, as it was a common concern for all countries.

But the premier added: "We do not support media hype on unsafe Chinese products, and we're against trade protectionism and discrimination."