NEW YORK - Wall Street suffered its biggest plunge of the year Thursday, leading global markets lower as investors fled stocks amid increasing uneasiness about the mortgage and corporate lending markets. The Dow Jones industrials briefly fell nearly 450 points, while Treasury yields plunged as investors moved money into bonds.
Investors who had been able to shrug off discomfort about subprime mortgage problems and a more difficult environment for corporate borrowing appeared to finally succumb to those concerns after another disappointing home sales report from the Commerce Department early Thursday. The Dow surpassed the 416 points it lost on Feb. 27 after a nearly 10 percent decline in Chinese stock markets.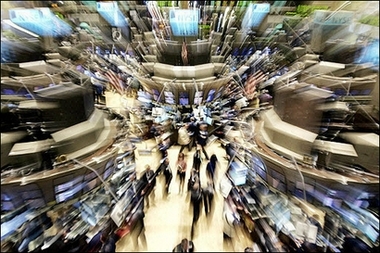 Traders work on the floor of the New York Stock Exchange after the opening bell, February 2007. The leading Dow Jones Industrial Average stock index plummeted over 400 points in afternoon trading Thursday, or almost three percent, amid housing market and "credit crunch" fears, traders said. [AFP]


Feeding the selling were concerns that higher corporate borrowing costs will curb the rapid pace of takeovers that have driven major indexes this year. Investors also feared the sluggish environment for home sales and continued defaults in subprime loans would spur debt defaults and weigh on corporate earnings.
While stocks skidded lower, investors poured money into the safe haven of the bond market. The soaring price of Treasurys pulled yields lower, and the rate on the 10-year note plunged to 4.79 percent from late Wednesday's 4.90 percent.
"Worries that have been out there for the past couple of years are coming to a head right now," said investment strategist Edward Yardeni, president of Yardeni Research Inc. "It's show time.."
Thursday's trading was the latest and most extreme in a series of frenetic sessions over the past month -- many also accompanied by triple-digit swings in the Dow -- as investors sold on worries about the subprime fallout or bought on optimism that there wouldn't be any widespread problems caused by mortgage failures. Many analysts have described the back-and-forth trading as overwrought and based more on gut emotion than careful consideration of market and economic fundamentals.
That was their feeling again Thursday.
"The rally in bonds at this point looks a little bit overdone," said Tom Higgins, chief economist at Payden & Rygel Investment Management in Los Angeles. "If you're going to park money temporarily then cash I think is the way to be but I think that we're going to form a bottom. I think people are going to be legging back into the market."
In late afternoon trading, the Dow plunged 323.28, or 2.35 percent, to 13,461.79. Its intraday drop of 449.77 was the Dow's largest one-day point decline since it lost 684.81 on Sept. 17, 2001, the first day of trading after the 9/11 terror attacks.
Broader market indicators also fell. The Nasdaq composite index tumbled 58.04, 2.19 percent, to 2,590.13, while the Standard & Poor's 500 skidded 36.71, or 2.42 percent, to 1,481.38.
The declines triggered a global sell-off in stocks, causing minor losses in Europe to accelerate rapidly along with the Dow's drop. In Europe, Britain's FTSE 100 closed down 3.15 percent, Germany's DAX index dropped 2.39 percent, and France's CAC-40 fell 2.78 percent.
Markets were closed in Asia before the rout got under way. Japan's Nikke stock average closed up 0.88 percent and the Shanghai stock market composite added 0.52 percent to an all-time high.
Wall Street also found more immediate reasons to sell during the session. Among them was disappointing home sales figures released by the Commerce Department, which further eroded confidence in the housing industry's ability to rebound.
The Commerce Department reported that sales of new homes fell 6.6 percent last month to a seasonally adjusted annual rate of 834,000 units, more than triple what had been expected and the largest percentage drop since sales fell by 12.7 percent in January.
This boosted anxiety after quarterly results from home builders including Pulte Homes Inc. and D.R. Horton Inc. were squeezed by a sluggish environment from home sales and continued defaults in subprime loans.
"Wall Street continues to walk a wall of worry," said Ryan Larson, a senior equity trader at Voyageur Asset Management. "The housing market continues to be a story, and nobody knows when it will rebound. But, the real concerns are about credit and oil pushing higher."
Also stunting stocks was a disappointing durable goods report released by the Commerce Department. Though sales of big-ticket items increased by 1.4 percent last month to a seasonally adjusted $217.07 billion, durable goods excluding transportation equipment had an unexpected drop.
The Labor Department reported that jobless claims fell by 2,000 to 301,000 in the week ended July 21, slightly better than analysts' expectations.
Investors also reacted negatively as oil prices climbed to almost $77 per barrel during the session, stoking the market's worries about inflation. However, crude pared gains in the afternoon when a barrel of light sweet crude fell $1.09 at $74.79.
It all led to a frantic day for stock traders.
"It has been pretty volatile as of late, but now fears about a credit crunch are spreading more than they have in the past -- and that's causing this drop," said Matt Kelmon, portfolio manager of the Kelmoore Strategy Funds. "That's hurting the financials, and now energy companies are joining the party because oil is so high. They make up a large part of the S&P 500."
Wall Street, now at the peak of second-quarter earnings season, has been extremely volatile lately -- a signature of typically slower trading that has been heightened by record runs in major market indexes. On Thursday, declining issues beat advancers by a 14 to 1 basis on the New York Stock Exchange, where volume came to almost 1.85 billion shares in late morning trading.
Both NYSE Group Inc. and Nasdaq Stock Market Inc. reported that their electronic trading systems were functioning normally, and no problems had been reported.
Ford Motor fell 4 cents to $7.93, though it had been broadly higher during the session after it reported cost-cutting and a turnaround in its core automotive operations pushed its second-quarter to a profit. The company had posted seven quarters of losses as it grappled with sluggish sales and a major overhaul of its operations.
Dow component Exxon Mobil's disappointing second-quarter results also weighed on the overall market, even as energy prices continued to spike. Shares fell $6.03, or 6.5 percent, to $86.76 after it reported a smaller profit than analysts expected.
The Nasdaq's losses weren't as steep as other major indexes during the session due to strength from Apple Inc., which surged $6.36, or 4.6 percent, to $143.62. The iPod and iPhone maker's earnings easily surpassed Wall Street projections late Wednesday due to strong sales from its computer offerings.
Home builders sank after several disappointing reports. D.R. Horton fell 70 cents, or 4 percent, to $16.78 after it posted a fiscal third-quarter loss on charges to write down the value of unsold inventory and deposits on land.
Pulte fell $1.15 cents, or 5.5 percent, to $19.86 after it posted a second-quarter loss amid the struggling housing market.
Dow Chemical Co. dropped $2.81, or 6.2 percent, to $42.98 after second-quarter results missed expectations. The company said profit during the quarter rose 2 percent as strong international growth offset weakness in the North American housing and automotive sectors.