WASHINGTON (Reuters) - Al Qaeda's safe haven in northwestern Pakistan is largely inaccessible to outside forces and unlikely to be eliminated soon by the US or Pakistani military, top intelligence officials said on Wednesday.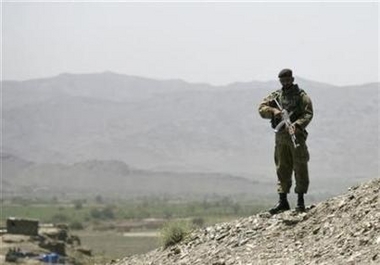 A Pakistani soldier guards a military post overlooking Wana, the main town of the South Waziristan region, near the Afghan border April 11, 2007. [Reuters]


At a hearing in the US House of Representatives, Pentagon intelligence chief James Clapper said the United States was not content to sit still while the militant network blamed for the September 11 attacks on New York and Washington regenerated its strength in North Waziristan.
"I think our objective will be to neutralize, not eliminate, but certainly make this safe haven - as we have the others - less safe and less appealing for AQ," Clapper told a joint session of the House armed services and intelligence committees.
But Clapper, undersecretary of defense for intelligence, presented the task of eliminating al Qaeda's influence in the region as a long-term project that would hinge on US economic aid to the local populace and contributions of military assistance including sophisticated surveillance equipment to the Pakistani military.
"This is going to be a long-haul process," he said. "I don't think we'll have any demonstrable change within (a) three-year time frame."
Added Clapper, "It's not just ... putting bombs on targets."
He and other administration officials spoke to lawmakers about al Qaeda's emergence in Pakistan after White House homeland security adviser Frances Townsend refused to rule out US military action against al Qaeda.
At a separate hearing before the Senate Foreign Relations Committee, Undersecretary of State Nicholas Burns reiterated the view that the United States would take unilateral action against al Qaeda in Pakistan under certain circumstances.
But he stressed that Washington's strong preference was to work with the Pakistani government.
Burns also defended Bush's request for $750 million over five years in new aid to help bring jobs and other development to the lawless region. He said the administration would ask Congress to allow duty-free imports from the border region to aid economic development.
Failed accord
The Bush administration released unclassified excerpts of a major intelligence report last week that concluded the United States faces a heightened threat from al Qaeda in part because of the Pakistan safe haven.
Pakistani President Pervez Musharraf has deployed more troops to Waziristan where militant tribesmen, accused of harboring al Qaeda and supporting the Taliban, have stepped up attacks after scrapping a 10-month-old peace deal with the government.
Officials in the House session said Musharraf's accord with tribal leaders in North Waziristan helped al Qaeda build up its safe haven but defended the agreement as a sincere but failed attempt to control militancy.
Mary Beth Long, acting assistant secretary of defense for international security affairs, told lawmakers that Pakistan now has 100,000 troops in the area.
But officials appeared to play down expectations that stepped up Pakistani military operations would lead to a full-scale assault on al Qaeda sites in a remote mountainous region populated by hostile and heavily armed tribes.
"Al Qaeda is now in a part of Pakistan that is largely inaccessible to Pakistani forces, the Pakistani government. Always has been. And it is a very difficult operating environment for them," said Edward Gistaro, the top US intelligence analyst on transnational threats.
"It is just a very difficult environment for outside forces to operate in," he added.