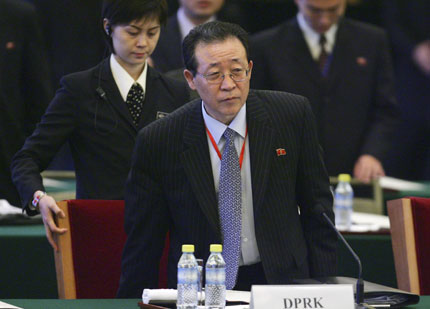 North Korea's Vice Foreign Minister Kim Kye-gwan takes his seat before the opening of the sixth round of the six-party talks on curbing North Korea's nuclear programme, in Beijing March 19, 2007. North Korea and the United States have resolved a dispute over $25 million frozen at a Macau bank, U.S. officials said, clearing a major obstacle to six-party talks on nuclear disarmament that resumed on Monday. [Reuters]


Funds frozen in Macao's Banco Delta Asia (BDA) will be returned to Pyongyang via a Chinese mainland bank, raising hopes of progress at talks on denuclearizing the Korean Peninsula.

The announcement was made by visiting US Treasury Undersecretary Daniel Glaser in Beijing on Tuesday, March 19 as nuclear envoys met again for a fresh round of the Six-Party Talks.

The Democratic People's Republic of Korea (DPRK) has pledged that the released money, to be deposited into an account held by its Foreign Trade Bank at Bank of China in Beijing, will be used for humanitarian purposes and education, said Glaser.

He said details on the timing and procedures for transferring the funds would be worked out between Pyongyang and monetary regulators in Macao, which said in a statement yesterday that "the process will be in accordance with the instructions of the account holders".

The resolution has cleared the way for the ongoing nuclear talks aimed at pushing forward a landmark February 13 deal that gave the DPRK 60 days to shut down its Yongbyon nuclear facility in return for economic aid.

Chairing the opening ceremony, Vice-Foreign Minister Wu Dawei said this session, which is scheduled to conclude tomorrow, will focus on reviewing the progress of five working group meetings held over the past month, discussing specific steps necessary to meet the April shutdown deadline and begin talking about what actions should come after it.

He cautioned that despite the positive signs, there was still a long way ahead, hoping "all the parties take a flexible, pragmatic and constructive approach to the talks to ensure all agenda items progress smoothly".

The DPRK's chief envoy Kim Kye-gwan reiterated the commitment to maintain a nuclear-free Korean Peninsula through negotiations, saying Pyongyang is ready to seal its nuclear program and allow in international nuclear inspectors once the funds were fully released.

Analysts say though the amount frozen is not really big for Pyongyang, the closure of the banking issue itself is important for building trust between the United States and the DPRK.

With the bank agreement reached, US Assistant Secretary of State Christopher Hill said the Six-Party Talks could focus on implementing the February deal and drafting the action plan for the next step.