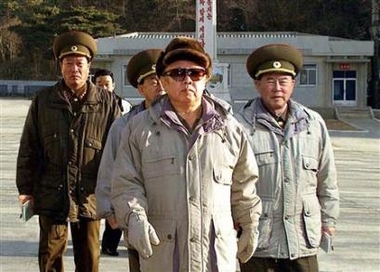 North Korean leader Kim Jong-il (C) inspects the Korean People's Army Unit 593 at an undisclosed location in North Korea in this photo released by the Korea Central News Agency on January 16, 2007. [Korea News Service/Reuters]


SEOUL, South Korea - North Korea said Friday that it had reached an agreement with the US during direct talks with Washington's main nuclear envoy this week in Germany, but the top American envoy said it had yet to be seen whether progress could be made at six-nation disarmament negotiations.

Related readings:


US and N. Korea pursue nuke talks


US denies meetings with N. Koreans signal policy shift


N.Korea defends nuke test as negotiators talk


US considering release of some N.Korea funds


US envoy: N. Korea talks slow but progressing


US pushing for more N. Korea sanctions


US sends stealth fighters to S.Korea


US and N.Korea plan sanction talks


Japan, US warn N. Korea on nuke tests


N.Korea stresses improving people's living standard
North Korea's Foreign Ministry said the talks between US envoy Christopher Hill and North Korea's main nuclear negotiator Kim Kye Gwan had been held "in a positive and sincere atmosphere and a certain agreement was reached there." No further details were given.
But Hill, who arrived Friday in Seoul, said he wasn't sure what agreement the statement was referring to. He called the talks in Berlin "very useful discussions" and added he was pleased that it appeared the North was also positive about them.
Hill and Kim met for three days and were believed to be discussing when to convene the next session of international talks on the North's nuclear programs, among other issues. The last round in Beijing in December -- held after the North conducted its first-ever nuclear test in October -- ended without any breakthroughs.
"We paid attention to the direct dialogue held by the (North) and the US in a bid to settle knotty problems in resolving the nuclear issue," the North's ministry said Friday in a statement released by the country's official Korean Central News Agency.
Hill emphasized the focus of denuclearization talks still was the main six-nation talks -- which also include China, Japan, Russia and South Korea -- and time would tell how this week's meetings with North Korea would help move things forward there.
"What we now have to do is to see how those discussions can be folded into the six-party process, whether those discussions can help lead to some progress in Beijing," he said.
The US diplomat was heading to Tokyo and Beijing after his meetings with South Korean officials Friday.
A news report Friday said the arms talks could resume early next month due to progress made at the Germany meetings.
South Korea's Yonhap news agency, citing an unnamed diplomat in Seoul, reported that the discussions in Berlin "progressed toward a very positive direction."
Another unnamed diplomat said there is a high possibility the nuclear talks would resume in Beijing the week of February 5, Yonhap reported late Thursday.
But Chun Yung-woo, South Korea's main envoy to the six-nation nuclear talks, said that "nothing has been decided yet" on the date of further talks.
At the December talks, the North refused to engage in any discussion of its nuclear program and repeated a demand for the US to lift its blacklisting of a Macau bank for its complicity in the country's alleged counterfeiting and money laundering. The US move led the bank to freeze North Korean assets worth about $24 million.
The US is holding separate financial talks with North Korea, but the last session that met alongside the nuclear talks in December made no progress and another meeting is expected this month.