Japanese and US officials warned Friday of tougher measures against North Korea if the nation conducts a second nuclear test.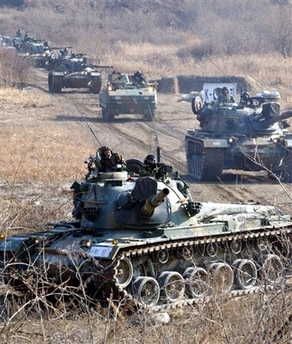 A tank unit of the Republic of Korea Army conduct the first drill of the new year to prepare for a possible North Korean surprise attack near the demilitarized zone between the two Koreas in Yeoncheon, north of Seoul, Thursday, Jan. 4, 2007. South Korea said Friday there are no particular signs that North Korea plans to conduct a second nuclear test, dismissing a media report on a possible nuclear test. [AP]


US Secretary of State Condoleezza Rice said that a second nuclear test "no doubt would deepen its isolation."
Rice and South Korea's foreign minister, Song Min-Soon, agreed at a news conference in Washington that they want negotiations on North Korea's nuclear program resumed.
"If North Korea is prepared to return in a more constructive spirit" the talks could be reopened fairly soon, Rice said. But she added, "We know of no substantive response from the North Koreans."
The remarks came amid US media reports that Pyongyang has appeared to have readied for another nuclear test and that the preparation steps were similar to those taken before its first nuclear detonation on October 9. But Japanese and South Korean officials have not reported any signs that Pyongyang was preparing for another test.
The talks, held last month in Beijing, would swap economic incentives and a US assurance of respect for North Korea's security for cessation of the nuclear weapons program.
Tokyo urged its neighbor to refrain from any developments that would stoke regional tensions. "We think it is essential that North Korea should stop further nuclear testing and they should abandon all their nuclear programs," said Nori Shikata, assistant press secretary for Japan's Foreign Ministry. "If they conduct another nuclear test, then the international community, including Japan, will take additional measures."
Rice said "there is intensive discussion among the parties about the resumption of the six-party talks." US State Department spokesman Sean McCormack said negotiators were looking for "clear commitments, clear indications, clear actions" that North Korea had made the "strategic choice" to abandon its nuclear weapons.
"Obviously, conducting a second nuclear test sends the opposite signal and very clearly indicates that they have chosen to go down the pathway of deeper isolation for North Korea and the North Korean people," McCormack said.
A South Korean military intelligence official said vehicle and personnel activities are constantly spotted at a suspected test site in North Korea but that it was too early to say whether they indicated an imminent nuclear test, the Yonhap news agency reported, without identifying the official.
North Korean nuclear envoy Kim Kye Gwan said in December that his country would bolster its atomic arsenal and further improve its deterrent in response to international pressure.
The North has hailed its test as "an auspicious event in the national history," and says it serves as a key deterrent against a possible US attack. Washington has repeatedly denied that it plans to invade.