TEHRAN, Iran - President Mahmoud Ahmadinejad lashed back over the US military buildup in the Gulf, saying Thursday that Iran is ready for any possibility in the standoff over its nuclear program.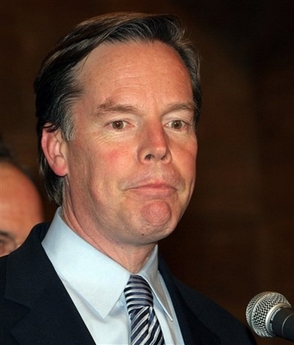 Nicolas Burns, the US Undersecretary of State listens to a question during a news conference after his meeting with Turkish Prime Minister Recep Tayyip Erdogan, not seen, at the parliament in Ankara, Thursday, Jan. 18, 2007. [AP]


The president made clear he was not backing down in his tough rhetoric toward the United States, despite criticism at home. Conservatives and reformists alike have openly challenged Ahmadinejad's nuclear diplomacy tactics, many saying his fiery anti-Western remarks are doing more harm than good.

Ahmadinejad said their calls for compromise echo "the words of the enemy."

At the same time, Ahmadinejad's top national security official, Ali Larijani, sharply denounced US policy in Iraq, saying Washington is fueling Shiite-Sunni hatred.

Washington has accused Iran of backing militants fueling Iraq's violence, increasing tensions amid the dispute over Iran's nuclear program, which the US says aims to produce nuclear weapons.

The United States sent an aircraft carrier to the Gulf this week - the second to deploy in the region - a buildup that Defense Secretary Robert Gates said was intended to impress on Iran that the four-year war in Iraq has not made America vulnerable.

In an apparent reaction to the deployment, Ahmadinejad vowed Thursday that Iran would not back down over its nuclear program, which Tehran says is being developed only to produce energy.

"Today, with the grace of God, we have gone through the arduous passes and we are ready for anything in this path," state-run television quoted the Iranian leader as saying.

The UN Security Council recently imposed limited sanctions to punish Iran for defying a resolution demanding that it suspend uranium enrichment, a process that can produce material to fuel nuclear reactors or, at purer concentrations, the core of nuclear weapons.

In Paris, the head of the UN nuclear watchdog agency, Mohamed ElBaradei, said he was concerned the sanctions could escalate Iran's standoff with Western powers.

"I don't think sanctions will resolve the issue ... Sanctions in my view could lead to escalation on both sides," he warned.

ElBaradei said the pressure has failed to break a consensus in Iran that the oil-rich nation needs to master the complex process of uranium enrichment. Iran this week said it is moving toward large-scale enrichment involving 3,000 centrifuges, which spin uranium gas into enriched material.

A diplomat and a UN official in Vienna said Thursday that much, but not all, of the hardware needed for the installation of the centrifuges was now in place at the Natanz facility designated to house Tehran's industrial-scale enrichment program.

The two - who requested anonymity because they were not authorized to discuss confidential information - emphasized that the facility had been ready for some time, and there was no sign that actual work on putting in the centrifuges would begin at any particular date.

| | | |
| --- | --- | --- |
| 1 | 2 | |