BRUSSELS, Belgium - US Defense Secretary Robert Gates said Monday that new US military moves in the Persian Gulf were prompted in part by signals from Iran that it sees the United States as vulnerable in Iraq.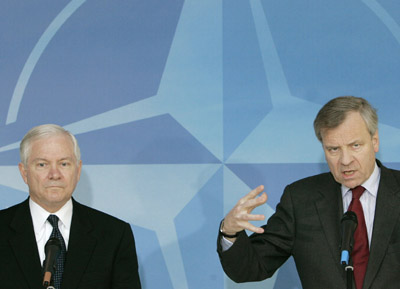 US Secretary of Defense Robert Gates (L) addresses a joint news conference with NATO Secretary-General Jaap de Hoop Scheffer at the Alliance headquarters in Brussels January 15, 2007. [Reuters]


"The Iranians clearly believe that we are tied down in Iraq, that they have the initiative, that they are in a position to press us in many ways," Gates told reporters at NATO headquarters before flying to Kabul to meet with Afghan President Hamid Karzai and to visit US soldiers and commanders.

It was Gates' first trip to Afghanistan since he took over for Donald H. Rumsfeld last month; he had said several times recently that he is worried that US gains in stabilizing Afghanistan could be in jeopardy as the radical Taliban movement makes a comeback in some parts of the country, particularly the south.

In Brussels, Gates indicated that Iran's perception of US vulnerability was part of the reason the Pentagon decided last week to send a second aircraft carrier battle group and a Patriot anti-missile battalion to the Gulf area. Patriots defend against shorter-range missiles of the type that Iran could use to target US forces in the area. The Pentagon has not said exactly where the Patriots will be based.

The second aircraft carrier gives the US more flexibility and serves as a reminder of US firepower.

Laying out his concerns about Iran, Gates cited Iranian support for the radical Hezbollah movement in Lebanon. He also asserted that the Iranians "are doing nothing to be constructive in Iraq at this point." Other US officials have accused Iran of providing sophisticated bomb-making materials to insurgent groups in Iraq.

Gates said that as recently as 2004 the Iranians were "actually doing some things to be helpful" in Iraq, at a time when they felt concern at the presence of US troops on their western and eastern borders, in Iraq and Afghanistan. At that point he felt diplomatic dialogue would be useful.

"None of those conditions apply any longer," Gates said, responding to reporters' questions about the reasoning behind the Pentagon's decision announced last week to dispatch a second aircraft carrier battle group and a Patriot missile battalion to the Gulf area. Neither move seemed directly to Iraq.

"And so the Iranians are acting in a very negative way in many respects," Gates said, mentioning their refusal thus far to accept repeated international calls to stop elements of their nuclear program.

"My view is that when the Iranians are prepared to play a constructive role in dealing with some of these problems then there might be opportunities for engagement," he added.

Gates said there was nothing surprising at the US decision to send a second aircraft carrier to the Gulf.

"We are simply reaffirming that statement of the importance of the Gulf region to the United States and our determination to be an ongoing strong presence in that area for a long time into the future," he said.

Gates' comment about Iran perceiving the US military as bogged down in Iraq appeared to reflect a concern felt by many in the Pentagon in connection with deepening US involvement in Iraq. US officials want to knock down any speculation that the burdens of war in Iraq might present an opportunity for adventurism by US adversaries elsewhere in the world, including Iran and North Korea.

Iran's increasing assertiveness is a cause for concern among many Gulf nations ruled by Sunni Arabs, including Saudi Arabia. They worry that US failure in Iraq would further embolden the Iranians, whose links to Shiite extremists in the region are seen as a threat to US-allied Gulf nations.

Gates has indicated he would like the Saudis and other Gulf nations to do more, particularly with economic assistance, to help stabilize Iraq.

During talks in London on Sunday, top British government officials told him they plan on reducing their contingent of 7,000 soldiers in southern Iraq this year. During his news conference in Brussels on Monday, Gates gave no indication that he opposed that move, saying the security situation in the south is different than in Baghdad, where the United States is building up forces to quell sectarian violence.