CAIRO, Egypt - Iran's hard-line President Mahmoud Ahmadinejad said Tuesday that he sent a message to Saudi King Abdullah proposing that they cooperate in helping stabilize Iraq.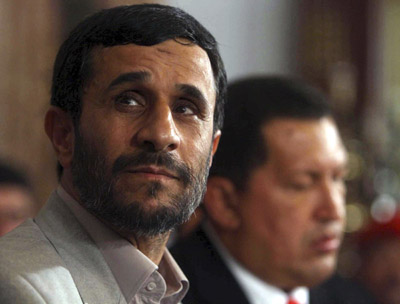 Venezuela's President Hugo Chavez (R) and his Iranian counterpart Mahmoud Ahmadinejad meet at Miraflores Palace in Caracas January 13, 2007. [Reuters]


Ahmadinejad's comments came as Washington is trying to rally its Arab allies and isolate Iran.

"We, Saudis and other neighboring countries can help the Iraqi people to take the lead to consolidate their government's capability to stabilize and maintain security in their country," Ahmadinejad told the Saudi-owned satellite television channel.

"I sent a message to King Abdullah in this regard and the answer, generally, was positive," the Iranian president said in the interview taped Saturday in Venezuela, one of the countries on his Latin American tour.

Iran's top national security official, Ali Larijani, had delivered a message to Abdullah, the official Saudi Press Agency reported Sunday, but did not reveal its contents.

Iran's overture to Saudi Arabia appeared to be an attempt to counter American efforts to rally its allies in the region and isolate Tehran.

Saudi Arabia has shown increasing alarm over Iran's growing influence in Iraq and across the Arab world, even as it has grown more worried over Iraq's chaos.

The US has previously asked Saudi Arabia to use its close ties to Iraq's Sunni minority to encourage reconciliation with the Shiite-led government. Saudi Arabia has pressed the US to ensure that Shiite militias are reined in.

Secretary of State Condoleezza Rice, ahead of her regional tour, rejected anew proposals for opening a diplomatic dialogue with Iran and Syria as a way to help stabilize Iraq.

She said Iran would demand US concessions on its nuclear program while Damascus would ask for an easing of the US opposition to Syrian policies in Lebanon as a price for cooperation.

Ahmadinejad said the Americans were in "trouble and they are seeking a way to get out of it while ensuring their economic interests and increase their hegemony over the region."

Addressing Iran's nuclear program, Ahmadinejad reiterated that "we are always ready to talk, but if the dialogue is used as a means to impose something which is illegal then they should realize that it is a dead end."

Iranian officials have said that efforts to make Iran roll back its nuclear activities are not legal because it has the right to a peaceful nuclear program as a signatory to the Nuclear Nonproliferation Treaty.