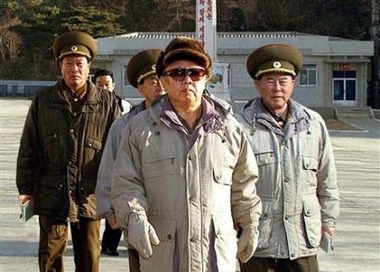 North Korean leader Kim Jong-il (C) inspects the Korean People's Army Unit 593 at an undisclosed location in North Korea in this photo released by the Korea Central News Agency on January 16, 2007. [Korea News Service/Reuters]


BERLIN - The United States and North Korea held a second day of bilateral talks on Wednesday, raising hopes of a breakthrough in efforts to curb the nation's nuclear weapons program.

Related readings:


N.Korea defends nuke test as negotiators talk


US considering release of some N.Korea funds


US envoy: N. Korea talks slow but progressing


US pushing for more N. Korea sanctions


US sends stealth fighters to S.Korea


US and N.Korea plan sanction talks


Japan, US warn N. Korea on nuke tests


N.Korea stresses improving people's living standard

Envoys from the two sides, who met for six hours on Tuesday and another 1-1/2 hours on Wednesday, were planning to hold a third round of discussions in the German capital on Thursday, US Assistant Secretary of State Christopher Hill said.

However, State Department spokesman Tom Casey later told reporters in Washington he did not expect Hill to meet with the North Koreans again in Berlin or in Seoul, Beijing or Tokyo -- the next stops during his current trip.

The bilateral meetings explored how to resume six-party talks that aim to persuade North Korea to abandon its nuclear ambitions. Those talks, last held in December, include the two Koreas, China, Japan, Russia and the United States

"We want to make sure that the next round of six-party talks is fully prepared so that we can make progress there," US Secretary of State Condoleezza Rice told reporters in Berlin, where she was to meet German Chancellor Angela Merkel and Foreign Minister Frank-Walter Steinmeier.

"(This) should help to prepare the way for a more favorable atmosphere at the time of the resumption of the six-party talks, which we hope would be soon," she added.

A State Department official, speaking on condition of anonymity, told reporters in Washington he hoped these talks could begin by the end of the month or soon after but said there was no certainty until they actually happened.

Officials said Washington's willingness to talk directly with Pyongyang -- as North Korea has long demanded -- suggests it may be ready to compromise over a crackdown on North Korea's finances, despite a nuclear test by Pyongyang in October.

Russia's new chief negotiator at the six-party talks put pressure on Washington to scrap its financial penalties.

"The United States should make some steps toward the (North) Koreans by lifting financial sanctions," Alexander Losyukov told RIA news agency.

Hill met his North Korean counterpart, Kim Kye-gwan, at the latter's embassy in Berlin but declined comment when he left.

Earlier, Hill said he hoped the six-party talks would resume in January. But he indicated that Pyongyang had still not made a decision to abandon its nuclear arsenal.

"The North Koreans have to decide if they want nuclear weapons or if they want a place in the international community," he said in a speech organized by the American Academy in Berlin.

REAL DISCUSSION

Hill declined to give details on the substance of Tuesday's talks but described them as "useful discussions." He played down suggestions the bilateral talks might strike a deal.

"It's very important that any negotiating or deal-making needs to be done in the six-party process," Hill said.

Former US negotiator Charles Pritchard called Hill's meetings with the North Koreans "Clintonesque" -- alluding to the many bilateral US-North Korean meetings under former US President Bill Clinton -- and said "they are not, by the Bush administration's definition, a part of the six-party process."

"What Hill is doing with the North Koreans is what everybody else had been doing -- the Chinese, the South Koreans -- and that is an element of shuttle diplomacy," Pritchard said. "He is trying to convince the North Koreans, who control the agenda, the timing and the pace of the talks, that now is the right time to come back to the talks."

Several officials in Washington told Reuters the Bush administration was now inclined to resolve the dispute over North Korea's accounts at a Macau bank, which it has called "a willing pawn" in North Korea's illicit financial deals.

South Korean Foreign Minister Song Min-soon said the meeting should bring the two sides closer to implementing a September 2005 deal to end Pyongyang's nuclear arms program.

In that agreement, hammered out in the six-party talks, Pyongyang agreed to trade its nuclear arms in exchange for economic aid and security guarantees.

The talks later bogged down over Pyongyang's complaint that a US squeeze on its financial activities was proof of American hostility.

Washington has since agreed to meet North Korean officials separately on the financial crackdown and may agree to the release of some of the North's frozen funds, which are now controlled by Macau authorities, US officials said.

US and North Korean finance officials are to resume their talks next week in either New York or Beijing, Hill said.

US authorities are scrutinizing a number of North Korean accounts at the Macau bank to see if funds from the North's legitimate business can be separated from illicit cash flow, US officials said.

Firms, among them British American Tobacco, have said some of the funds frozen at the Macau bank are legitimate. North Korea has said unfreezing the funds is a condition to serious talks on implementing the 2005 deal.