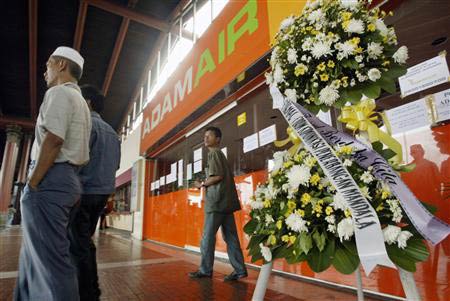 Men stand near a condolence wreath at an Adam air counter in Jakarta airport, January 3, 2007. [Reuters]

Makassar - Indonesian rescuers launched new sea, land and air searches on Wednesday for a plane with 102 people aboard as anger grew over inaccurate official statements that its wreckage had been found.

Senior government officials apologised late on Tuesday for erroneously saying the 17-year-old Boeing 737-400, operated by budget carrier Adam Air, had been spotted in the mountains of Sulawesi island after disappearing in heavy rain on Monday.

Early reports that 12 people had survived were also officially denied, and the general air of confusion prompted reactions of shock, dismay and even scorn from families of the missing passengers and crew.

"I feel fooled. This is what I call playing games with the feelings of the victims' relatives," said Peter Tolitton, whose brother was aboard the ill-fated plane.

"If up to the ministerial level the information is inaccurate, we doubt the credibility of the officials," Tolitton, a Jakarta resident who was flown by Adam Air to Makassar, told Reuters.

The missing plane was carrying 96 passengers and six crew. A copy of its manifest showed three passengers as non-Indonesians. The US embassy in Jakarta said they were Americans.

The renewed search effort, in the face of heavy rain and strong winds, was being coordinated from Makassar, Sulawesi's largest city, 1,400 km (875 miles) east of Jakarta.

Transport Minister Hatta Radjasa said military planes had been deployed since daybreak and naval ships sent to the Makassar Strait between Sulawesi and Borneo in case the doomed plane had fallen into the sea.

But as darkness set in across the search area late on Wednesday, there was no news of any sign of the plane or of a crash site.

Help From Singapore, US

Indonesian military officials said the air force had deployed a helicopter and surveillance plane, the navy four aircraft, and the army nearly 300 personnel for the search and rescue effort, and that Singapore would provide a surveillance aircraft and unspecified help would come from the United States.

An Indonesian air force official said aircraft were searching mountainous areas between the Sulawesi coastal town of Majene and Toraja. Much of it is covered with jungle and forest, and transportation and communication facilities can be poor.

South Sulawesi governor Amin Syam said that, besides continuing bad weather, many rescuers were worn out after the efforts made on Tuesday based on the wrong data.

Officials said the mistaken information about the location of wreckage and survivors had come from accounts from a local village that police then relayed to government agencies.

The confusion over the missing plane highlighted the logistical difficulties of dealing with disasters, from quakes and volcanoes to floods and forest fires, in an archipelago of 17,000 islands stretched across an area about as wide as the United States.

The plane lost contact with the ground on Monday about an hour before it was due to land in Manado in North Sulawesi.

Transport officials have insisted the plane, which had clocked up 45,371 flying hours, was airworthy.

The transport ministry said it had last evaluated the plane in December 2005, when it passed all service checks. The aircraft was due to be checked again in late January.

Joseph Umar Hadi, an opposition member of the Indonesian parliament's transport commission, said annual checks on planes operated by budget carriers were "very insufficient".

"Crude competition among operators has created risks unknown by the public, whether it relates to maintenance or management that encourages thrift," he said.

President Susilo Bambang Yudhoyono has ordered a full investigation into the condition of all commercial planes in Indonesia and what went wrong in the Adam Air case, as well as an evaluation of the nation's transportation system.

For that purpose Yudhoyono would form a national team that would look at sea and air transport in particular, with an eye to safety issues, transportation minister Radjasa told reporters late on Wednesday after a meeting with the president.

Adam Air's plane disappeared less than three days after a ferry capsized and sank off Indonesia's main island of Java. Hundreds who were aboard the ferry are still missing.

Ferries are ubiquitous in Indonesia as an inexpensive way to travel among its many islands, while air travel has mushroomed since the industry was liberalised in the late 1990s, enabling privately owned budget airlines to operate.