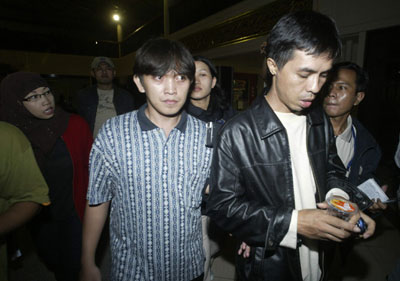 Family members of passengers of an Adam Air plane that went missing arrive at the airline's office to seek information on their relatives in Surabaya, East Java late January 1, 2007. Indonesia focused rescue efforts on Sulawesi island on Tuesday after the Adam Air Boeing 737-400 plane went missing with 96 passengers and six crew on board. [Reuters]


JAKARTA, Indonesia - Rescue teams Tuesday found the smoldering wreckage of an Indonesian jetliner that went missing over Indonesia's Sulawesi island during a storm, authorities said. Ninety people were killed, while the remaining 12 on board managed to survive, officials said.

"The plane is destroyed and many bodies are around there," said local police Chief Col. Genot Hariyanto.

Air force rear commander Eddy Suyanto told el-Shinta radio station that the plane had crashed in a mountainous region in Polewali, west Sulawesi province.

Local mayor Ali Bahal told el-Shinta that at least 90 people were killed on board the Boeing 737-400, which was on a domestic flight from Java island to Sulawesi when it disappeared late Monday.

Hundreds of people gathered at the airport in Manado seeking information about their missing relatives.

Justin Tumurang, 25, was waiting at the airport to pick up her twin sister, but she never arrived.

"Being a twin, we share almost every feeling. I felt something was not right, and it grew worse. Now I feel pain," she said.

The 17-year-old plane carried six crew and 96 passengers, including 11 children. Contact was lost about an hour before it was due to land amid very bad weather, national aviation chief Ichsan Tatang said late Monday.

The aircraft's last inspection was on Dec. 25 and it had flown 45,371 hours, he said.

Weeks of seasonal rains and high winds in Indonesia have caused several deadly floods, landslides and maritime accidents, including the sinking of a ferry in the Java Sea just before midnight Friday that left at least 400 people dead or missing.

The passenger ship capsized about 650 miles from the area where the Adam Air plane disappeared, and naval ships and helicopters continued Tuesday to scour the choppy tropical waters for ferry survivors.

Adam Air is one of at least a dozen budget airlines that have emerged in Indonesia since 1999, when the industry was deregulated. The rapid expansion has led to cheap flights to scores of destinations around the sprawling nation, but has raised some safety concerns, since many of the airlines are small and lease planes that are decades old.

In September 2005, a Mandala Airlines Boeing 737 crashed after take off on Sumatra island, killing 143 people.

In September 1997, a Garuda Airlines Airbus crashed into a jungle-covered mountain slope in Sumatra, killing all 234 people aboard. Two months later, a Silk Air Boeing 737 jet crashed into a river on Sumatra, killing 104 people.

Adam Air, which began operations in 2003, was founded by Agung Laksono, the speaker of Indonesia's house of representatives and the company's chairman.

Last year, one of the airline's jetliners lost all communication and navigation systems for four hours during a flight between the Indonesian capital Jakarta and Makassar on Sulawesi Island, forcing the pilot to make an emergency landing.