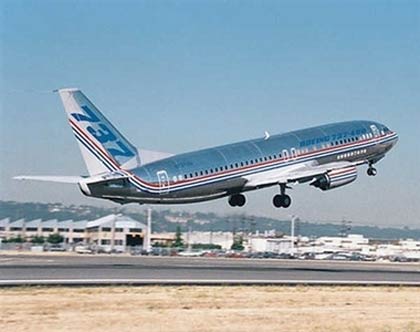 This is an undated photo provided by Boeing of the Boeing 737-400 aircraft. An aAdam Air 737-400 flying between Indonesia's Java and Sulawesi islands has lost contact with flight controllers, officials said in Indonesia. [AP]


Jakarta -- Rescue teams have been dispatched after a commercial Adam Air passenger plane with more than 100 people onboard sent out a distress signal over Sulawesi island while flying in bad weather conditions, the transport minister said Monday.
Hatta Radjasa said a distress signal had been picked up over central Sulawesi and that emergency crews were on their way to search for survivors.
"Let's hope the plane had an emergency landing," he told El-Shinta radio.
Air traffic controllers lost contact with flight KI-574 while it was flying between Indonesia's Java and Sulawesi islands. It was still missing more than six hours after the scheduled arrival time.
The plane left Surabaya in East Java at 1:00 pm local time (0600 GMT) on a two-hour flight to Manado on the northern tip of Sulawesi island, A senior Transport Ministry official, Ichsan Tatang said.
An Indonesian air traffic controller, Bhabr, told Metro TV the plane hit "very bad" weather and may have run out of fuel because, if still airborne, it would be "over its (fuel) limit."
"This is an emergency," Bhabr, who like many Indonesians uses one name, told the broadcaster.
The missing plane is a Boeing 737-400, carrying six crew and 96 passengers, including 11 children, Indonesia's El-Shinta radio reported.
It's last contact with flight controllers was at 2:07 pm (0707 GMT) near southern Sulawesi, Tatang said, adding that it only had enough fuel for a four-hour flight.
Contact was lost when the plane was at an altitude of 35,000 feet, about one hour before it was due to land.
Adam Air, a privately owned low-cost airline, began operations in Indonesia several years ago and most of its flights are domestic.
Last year, one of its jetliners lost all communication and navigation systems for four hours during a flight between the Indonesian capital Jakarta and Makassar on Sulawesi Island forcing the pilot to make an emergency landing.
The transport minister said at the time he would investigate.