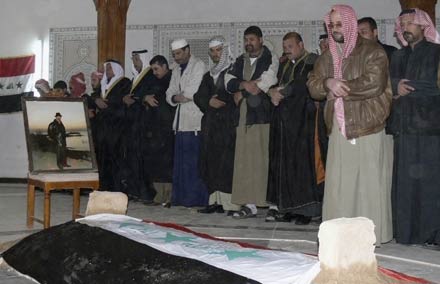 Men pray over the coffin of Iraq's former president Saddam Hussein during a funeral in Awja, near Tikrit in northern Iraq, 175 km north of Baghdad, December 31, 2006. Saddam Hussein was buried before dawn on Sunday in his native village of Awja, the head of his tribe said. [Reuters]

Hundreds of Iraqis flocked to the village where Saddam Hussein was born on Sunday to see the deposed leader buried in a religious compound 24 hours after his execution.

Saddam's body was transferred by American helicopter to the US military base at Tikrit, 80 miles north of the capital, officials in Tikrit said.

He was interred in a compound he built in the village of Ouja, a few miles south of Tikrit, where he was born 69 years and eight months before.

At a covert ceremony in a village hall, tribal elders, clansmen and provincial leaders gathered in the bitter cold after hours spent slicing through red tape in Baghdad to fly their hero home on a US aircraft.

"In the presence of (Salaheddin) Governor Hamad al-Shakti, clan chief Ali al-Nada and scores of the people of Awja, we buried the body at around 3:30 in the morning," Saddam's cousin Hamid Suleiman al-Majid said on Sunday.

After the burial, hundreds of grim-faced mourners from the nearby town of Tikrit sidestepped a vehicle ban to walk the four kilometres (two miles) to pay their respects at the fresh grave, which was drapped in an Iraqi flag.

Hanging their heads, raising their hands in prayer and wiping away tears, men gathered in traditional dress and leather jackets around the fresh cement sealing the hole in the marble floor of a village hall.

Saddam was lowered into the ground less than 24 hours after his execution for crimes against humanity. His cousin said the Americans and US-backed Iraqi government had banned a traditional presidential-style wake.

bouvet 2007-01-01 11:08
I wonder if American or British leaders would have the same dignity and courage to die like Saddam?



maddness 2007-01-01 10:18
So far, according to John Hopkins University's research, more than 650,000 Iraqis had been killed since Bush's "liberation" of Iraq from Saddam's tyranny.
Who is responsible for the 650,000 Iraqi dead and thousands of US deaths? Not to mention 60,000 US soldiers crippled and mentally ill after the aggression...

Click to see more readers' Comments

"The American forces and the Iraqi government ordered the body to be buried quickly without holding a wake," he said.

The deputy Salaheddin governor, one of three officials to escort Saddam's body back, told local television how officials had persuaded the government to release the body in accordance with the family's wishes.

Abdullah Hussein Jabara said Saddam's face was bruised but there were no traces of aggression on the body -- which had been shrouded and filmed by Iraqi television in footage beamed around the world as proof of death.

Some Iraqi Sunnis had seized on the bruises to claim that Saddam had been tortured, but his cousin and officials said they were caused by the hanging.

A Sunni cleric then washed the corpse, Jabara said, put it in a coffin and prayed over it near the Iraqi prime minister's office inside the heavily fortified Green Zone, seat of the Baghdad government and the US embassy.

Jabara said the delegation needed to secure American permission, from as high up as President George W. Bush, for a US aircraft to fly Saddam home on a 180 kilometre (110-mile) journey which would be too dangerous by road.

"We went to contact the Americans to secure a plane and that took more time than expected because it needed the approval of the US State Department and even Bush personally, we were told," he said.

Saddam's body was then flown out of Baghdad at 1:00 am and was met at an air base 90 minutes later by a police car that escorted the small cortege to Awja, finally arriving at 3:15 am to waiting clansmen.


| | | |
| --- | --- | --- |
| 1 | 2 | |