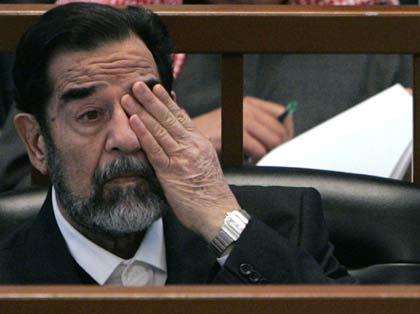 Ousted Iraqi President Saddam Hussein covers one of his eyes while listening to the prosecution during the Anfal genocide trial in Baghdad in this December 21, 2006 file photo. [Reuters/file]

Baghdad - Saddam Hussein bade two half brothers farewell on Thursday in a rare prison meeting as he awaits execution, a lawyer said, but US and Iraqi officials gave conflicting accounts of whether he would hang within days.

A senior Bush administration official said the ousted president could go to the gallows as soon as Saturday.

But Iraqi officials backed away from suggestions they would definitely hang him within a month and a cabinet minister told Reuters a week-long religious holiday would stall any execution.

"He was in very high spirits and clearly readying himself," Badie Aref, a defense lawyer, told Reuters after the 69-year-old former leader met half-brothers Watban and Sabawi, who are also both held at the US army's Camp Cropper near Baghdad airport.

"He told them he was happy he would meet his death at the hands of his enemies and be a martyr, not just languish in jail.

"He ... gave them letters to his family in anticipation."

The novelty of the US-sponsored process by which Saddam and his third half-brother Barzan, along with another senior member of the Baath party, were condemned on November 5 has left considerable room for wrangling over the timing of any execution among rival factions and between Washington and Baghdad.

Battling to stave off all-out sectarian civil war, Shi'ite Prime Minister Nuri al-Maliki had said he wanted Saddam hanged this year for the killings, torture and other crimes against the Shi'ite population of the town of Dujail.

But some of Saddam's fellow Sunnis have warned this could reinforce their community's alienation and many ethnic Kurds want Saddam first convicted of genocide against them.

Iraq's Saddam-era penal code bars executions on religious holidays. Eid al-Adha, coinciding with the haj pilgrimage to Mecca, runs from Friday until work resumes on January 7.

Nonetheless, the US official in the United States said: "I've heard that it's going to be a couple more days, probably."

A US military spokesman in Baghdad confirmed that Saddam was still being held at a US-run prison but said any change in that status could be kept secret for security reasons.

CBS News reported a US military officer said Saddam would be turned over to the Iraqis within the next 36 hours.

Americans are concerned about Iraqi treatment of prisoners and are likely to keep a tight control of the process before the execution to avoid the public spectacle some Iraqis want to see.

The Iraqi minister said: "There is a debate over whether the president's signature is needed. Some insist the next step should be the president's signature. Others say it's not needed.

"The clock is ticking but Saddam is not just any old guy," he said. "There are procedures to be followed. Now it's Eid and the haj and it will take time to carry out the sentence."

The US military on Thursday reported five more deaths, bringing the US death toll to 100 for December so far and just short of 3,000 after nearly four years of war.

Bush Strategy Meeting

President Bush said he was making "good progress" in forming a new Iraq strategy after a meeting with top advisers during his Christmas holiday at his Texas ranch.

Bush did not reveal specific options that were discussed, but a senior administration official said troop levels would naturally be part of any talks about security.

"I think he's driving toward conclusions, driving toward a final decision, making it in the near future," the official said on condition of anonymity. Bush was expected to make an announcement in the "first part of January," he said.

Bush's supporters have hailed Saddam's conviction for crimes against humanity as a vindication of the 2003 invasion and proof of Iraqi democracy.

But U.N. High Commissioner for Human Rights Louise Arbour called for restraint in the implementation of Saddam's sentence.

"There were a number of concerns as to the fairness of the original trial, and there needs to be assurance that these issues have been comprehensively addressed. I call therefore on the Iraqi authorities not to act precipitately," Arbour said.

The Iraqi High Tribunal confirmed in a Web site posting that an automatic appeal against Saddam's death sentence had failed.

The appeals judge who first announced that ruling on Tuesday had referred at the time to a statute which says hangings must take place within 30 days of the failure of an appeal.

But Deputy Justice Minister Bosho Ibrahim told Reuters on Thursday the execution would happen within 30 days only if Iraq's president issued a decree ordering an immediate execution. If he does not do so in that time the Justice Ministry can carry out the sentence when it chooses.

President Jalal Talabani, a Kurd, has refused to sign death warrants in other cases but has delegated his powers to his Shi'ite and Sunni vice presidents. Both the constitution and High Tribunal statutes deny the presidency the power to block executions ordered for such serious crimes.