CRAWFORD, Texas - US President George W. Bush went to his ranch to rethink US involvement in Iraq as his spokesman hailed a Baghdad court's decision upholding the death sentence for former Iraqi leader Saddam Hussein.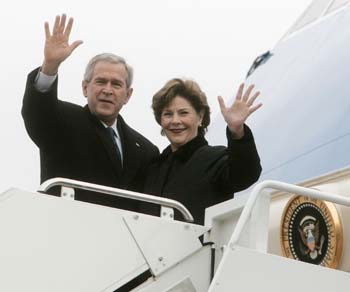 US President George W. Bush and first lady Laura Bush prepare to depart Andrews Air Force Base outside Washington for a week at their Central Texas ranch in Crawford December 26, 2006. [Reuters]


Saddam, who was deposed by the US-led invasion of Iraq in 2003, is to be hanged within 30 days.

"Today marks an important milestone in the Iraqi people's efforts to replace the rule of a tyrant with the rule of law," deputy White House press secretary Scott Stanzel told reporters on Tuesaday aboard Air Force One to Texas, where Bush was to meet this week with his national security team.

Iraq's highest appeals court on Tuesday upheld the November 5 sentence against Saddam for ordering the killing of 148 Shiites in Dujail in 1982, following an attempt on his life. Chief Judge Aref Shahin said the sentence must be implemented within 30 days, and could be carried out as early as Wednesday.

"Saddam Hussein has received due process and legal rights that he denied the Iraqi people for so long, so this is an important day for the Iraqi people," Stanzel said.

The 82nd Airborne Division's 2nd Brigade, which would include as many as 3,300 soldiers, has been ordered to go to Kuwait shortly after the new year, senior defense officials said Tuesday. Defense Secretary Robert Gates has approved the deployment, which had been reported earlier this month, said officials who requested anonymity because the announcement had not yet been made public.

At the Pentagon, officials said Gates is not likely to offer a single solution but, rather, a broad set of recommendations for changing the course in Iraq. A senior Defense Department official, who spoke only on condition of anonymity because Gates' advice to Bush is secret, said the recommendations "would involve many aspects of how we can do things differently."

Bush, saddled with low approval ratings for his handling of Iraq, will host a National Security Council meeting on Thursday at the ranch, but is not expected to make any final decision on what he says will be a new way forward in Iraq.

Vice President Dick Cheney, Secretary of State Condoleezza Rice, Gates and National Security Adviser Stephen Hadley will attend the meeting.

Stanzel said there could be other National Security Council meetings before the president makes up his mind and delivers a speech to announce his decisions. The speech is expected before the State of the Union address on January 23.

Bush is under mounting pressure to change US involvement in Iraq where violence continued to escalate this month.

On Tuesday, the U.S. military reported that seven more American soldiers had died, pushing the U.S. military death toll for the month to 90. With five days remaining in the month, December is already the second deadliest month for the U.S. military this year, behind the 105 soldiers killed in October.

The latest deaths also brought the number of U.S. military members killed since the beginning of the Iraq war in March 2003 to at least 2,978 - five more than the number killed in the September 11 attacks in New York, Washington and Pennsylvania.

Stanzel said Bush continues to question advisers and think through the consequences of various U.S. actions. "Our forces, coalition forces in Iraq are continuing to take the fight to the enemy, and the president will announce a new way forward when he's comfortable" with his decision, he said.