BAGHDAD - Iraq was preparing for the rapid execution of former dictator Saddam Hussein, with the US-backed government eager to bring his chapter in the country's bloody history to an end.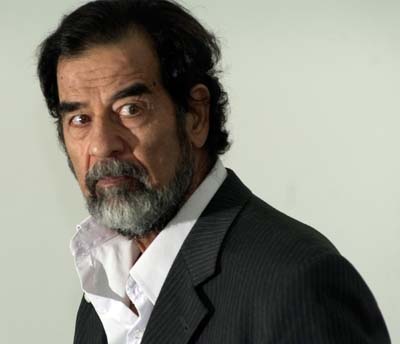 A handout photograph released by the Iraqi Special Tribunal on August 23, 2005, shows former Iraqi president Saddam Hussein being questioned by Chief Investigative Judge Ra'id Juhi, at an undisclosed location. An Iraqi appeals court on December 26, 2006, upheld a ruling that Saddam should hang for crimes against humanity, Iraq's national security adviser told Reuters. [Reuters]


As another deadly car bomb hit Baghdad Wednesday and the shooting of a Shiite politician triggered anti-American protests, the fate of the ousted tyrant threatened to deepen still further the rift between Sunnis and Shiites.

Justice Minister Hashem al-Shibli said Saddam's death sentence for crimes against humanity -- upheld by an Iraqi appeal court on Tuesday -- would be rubber stamped by the presidency and the prison service would hang him.

In a defiant open letter to his former subjects, the man who ruled Iraq with an iron first from 1979 until the 2003 US-led invasion said he would go to the gallows as a "sacrifice" and urged Iraqis to unite against their enemies.

"I sacrifice myself. If God wills it, He will place me among the true men and martyrs," wrote Saddam in the letter, which his lawyer said was penned last month for release if his death sentence was upheld.

Judges have ordered that Saddam die within 30 days but, while Shibli said the execution process will get underway rapidly, it could be delayed by the onset of the four-day Eid al-Adha holiday, due to start at the end of the week.

Saddam and two regime cohorts were convicted of crimes against humanity on November 5, after a court heard they ordered the deaths of 148 Shiite men from the village of Dujail in an act of collective punishment.

Shiite politicians welcomed Saddam's imminent demise as a blow to his remaining supporters that could take the heat out of the Sunni-led insurgency.

Shiite lawmaker Baha al-Araji from radical cleric Moqtada al-Sadr's bloc called for Saddam to be hanged this week as an "Eid present for Iraqis".

But Sheikh Khalaf al-Ilayan, whose National Dialogue Council is part of the main Sunni alliance in parliament, accused Iran and the United States of putting pressure on the court and predicted more bloodshed.

Saddam's disbanded Baath Party also threatened to attack US interests and "retaliate by any means, anywhere in the world, if the US administration undertakes its crime" of dispatching the 68-year-old to the gallows.

In Iraq, eight civilians were killed and 10 more wounded in a car bomb attack near a restaurant in mainly Shiite northeastern Baghdad. Three Iraqi soldiers died in a roadside bombing south of the capital.

Tension was boiling up further south in the holy city of Najaf after an American soldier killed a senior ally of Sadr during a raid on his house.

Sadr supporters and local police told AFP that US and Iraqi soldiers had stormed the family home of Sahib al-Ameri, the president of a pro-Sadr political foundation in the holy city of Najaf, and shot him dead.

The US military confirmed one of its troops had shot Ameri in an overnight raid by Iraqi forces, backed up by coalition military advisers.

A statement said Ameri was implicated in recent bomb attacks on US and Iraqi forces, and was shot by an adviser after he fled to the roof of his house and aimed an assault rifle at an Iraqi soldier.

Hundreds of mourners marched from Sadr's office in Najaf to the revered shrine of Imam Ali chanting anti-American slogans and denouncing Iraq's Prime Minister Nuri al-Maliki as a traitor for working with US officials.

Caldwell also confirmed that US forces are holding two Iranians detained last week in the Iraqi capital on suspicion of weapons smuggling, in a move set to exacerbate tensions in the delicate balance of Iranian-Iraqi-US relations.

Ten people were arrested and "documents, maps, photographs and videos" seized in the raid, which linked them to "illegal activities", he said. After interrogation it was discovered that two of them were Iranians, he added.

Iraqi leaders cited by the New York Times, which broke the story last week, said the Iranians were detained at the compound of powerful Shiite leader Abdul Aziz al-Hakim who met US President Bush at the White House this month.

A spokesman for Hakim denied that the raid took place at his compound, but the site of the arrests marked on a map handed out by the US military was consistent with being in or near the fortified compound.

US commanders in Iraq regularly accuse Iran of fomenting unrest in its troubled neighbour, but the Shiite-led Baghdad government has insisted on pursuing a policy of closer security ties with Tehran.

If US authorities produce evidence against the detainees it could be the first proof of their longstanding charge that Iranian agents are stirring violence in Iraq by arming and training illegal militias.

The commander of British troops in Iraq, the second biggest foreign force in the country, said that his soldiers needed more support and resources from home, stressing that currently he can only offer a "60 percent solution".

In the latest criticism of resources for troops based around the southern city of Basra, Major General Richard Shirreff singled out key issues including training, infrastructure and accommodation for soldiers on duty.