The U.N. Security Council voted unanimously Saturday to impose sanctions on Iran for refusing to suspend uranium enrichment, increasing international pressure on the government to prove that it is not trying to make nuclear weapons. Iran immediately rejected the resolution.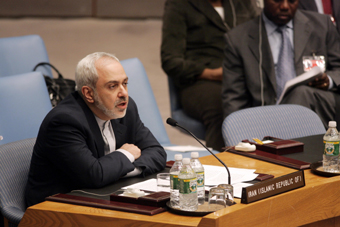 Javard Zarif, Iran's ambassador to the United Nations, speaks after the U.N. Security Council voted unanimously on a resolution authorizing trade sanctions against Iran for its nuclear program at the United Nations headquarters in New York December 23, 2006. [Reuters]


The result of two months of tough negotiation, the resolution orders all countries to stop supplying Iran with materials and technology that could contribute to its nuclear and missile programs. It also freezes Iranian assets of 10 key companies and 12 individuals related to those programs.
If Iran refuses to comply, the council warned it would adopt further nonmilitary sanctions, but the resolution emphasized the importance of diplomacy in seeking guarantees "that Iran's nuclear program is exclusively for peaceful purposes."
Iran insists its nuclear program is intended to produce energy, but the Americans and Europeans suspect its ultimate goal is the production of weapons.
The Iranian government immediately rejected the resolution, vowing in a statement from Tehran to continue enriching uranium, a technology that can be used to produce nuclear fuel for civilian purposes or for a nuclear bomb. The government said it "has not delegated its destiny to the invalid decisions of the U.N. Security Council."
The United States said it hopes the resolution will clear the way for tougher measures by individual countries, particularly Russia.
"We don't think this resolution is enough in itself," Undersecretary of State Nicholas Burns said in Washington. "We want to let the Iranians know that there is a big cost to them," he added, so they will return to talks.
The administration had pushed for tougher penalties. But Russia and China, which both have strong commercial ties to Tehran, and Qatar, across the Persian Gulf from Iran, balked. To get their votes, the resolution dropped a ban on international travel by Iranian officials involved in nuclear and missile development and specified the banned items and technologies.
"This resolution is a strong signal to the government of Iran that it should accept its international obligations, suspend its sensitive nuclear activities and accept the negotiations path," Secretary of State Condoleezza Rice said in a statement.
The U.N. vote came a day after talks with North Korea — already under similar but tougher U.N. sanctions for conducting a nuclear test — failed to make any progress in halting that country's atomic program.
Israel, which considers Iran its single greatest threat because President Mahmoud Ahmadinejad has called for the Jewish state's destruction, welcomed the resolution. Mark Regev, a Foreign Ministry spokesman, said the vote was "an important first step in preventing Iranian nuclear proliferation."
Iran's U.N. Ambassador Javad Zarif denounced the council for imposing sanctions on Iran, whose facilities are under U.N. safeguards, while doing nothing about Israel, whose prime minister recently appeared to confirm long suspicions that it is a nuclear power.
"A nation is being punished for exercising its inalienable rights" to develop nuclear energy, primarily at the behest of the United States and Israel, "which is apparently being rewarded today for having clandestinely developed and unlawfully possessed nuclear weapons," Zarif said.