The UN Security Council voted unanimously on Saturday to pass a resolution imposing sanctions against Iran over its controversial nuclear activities.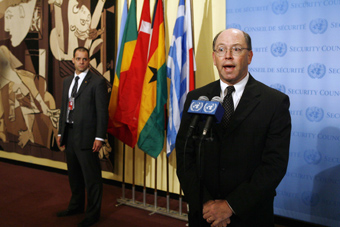 Alejandro D. Wolff (R), acting American ambassador to the United Nations, speaks to members of the media after the U.N. Security Council voted unanimously on a resolution authorizing trade sanctions against Iran for its nuclear program at United Nations headquarters in New York December 23, 2006. [Reuters]


The resolution, which followed weeks of negotiations, demanded that Iran "suspend all enrichment-related and reprocessing activities, including research and development," and "work on all heavy water-related projects."

It also called on all states to impose a ban on trade with Iran in goods related to its nuclear programs and ballistic missile delivery systems.

It also demanded that "all states shall freeze the funds, other financial assets and economic resources" owned or controlled by officials and companies in the country's nuclear and missile programs.

The resolution called on all states to monitor and notify a Security Council sanctions panel of the entry or transit through their territory of Iranians involved in the country's nuclear and missile programs.

The resolution asked the head of the International Atomic Energy Agency (IAEA) to submit a report within 60 days on Iran's compliance with the council's demands.

It warned that, if Iran refuses to comply, the council "shall adopt further appropriate measures under Article 41 of Chapter Seven" of the UN charter, which implies only economic sanctions.

In explanatory remarks following the vote, China's ambassador Wang Guangya said sanctions are not the end but a means to urge Iran to return to negotiations.

"There are also explicit provisions indicating that if Iran suspends its enrichment related and reprocessing activities, and complies with the relevant resolutions of the Security Council and meets the requirement of the IAEA, the Security Council shall suspend and even terminate the sanction measures," Wang said.

The resolution was a reaction to Iran's failure to comply with an earlier text passed in late July demanding it to suspend uranium enrichment by Aug. 31.

The United States and its European allies have accused Tehran of engaging in enrichment activities which are ultimately aimed at producing nuclear weapons. Iran maintains its nuclear program is for peaceful purposes only.