TEHRAN, Iran - Iran President Mahmoud Ahmadinejad called President Bush "the most hated person" in the world on Thursday, keeping up his tirades against the West despite elections that showed Iranians want him to focus on the country's domestic problems.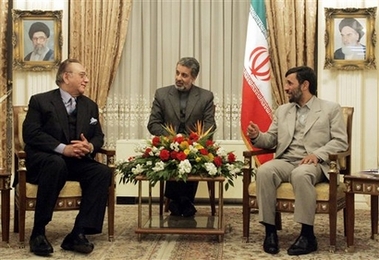 Iranian President Mahmoud Ahmadinejad, right, talks with the Pakistani Foreign Minister, Khursheed Kasuri, during their meeting in the city of Kermanshah 315 miles (525 kilometers) southwest of the capital Tehran, Iran, Wednesday, Dec. 20, 2006. Pictures of Iran's late revolutionary founder Ayatollah Khomeini, top right, and supreme leader Ayatollah Ali Khamenei, hang on the wall. [AP]


In final results announced Thursday from local elections last week, moderate conservatives opposed to Ahmadinejad won a majority of seats. They were followed by reformists, making a comeback after being driven out of local councils, parliament and the presidency over the past five years.

In the capital Tehran, where Ahmadinejad was mayor before becoming president 16 months ago, his allies grabbed only three of the 15 council seats, while moderate conservatives won seven. Reformists won four, and an independent one. Though the Dec. 15 elections were local, they were the first time the public has weighed in on Ahmadinejad's stormy presidency.

But Ahmadinejad appeared unbowed. He toured cities in western Iran, telling the crowds that Iran will not be intimidated by Western demands to dismantle its nuclear program, and scolding Bush.

"Oh, the respectful gentleman, get out of the glassy palace and know that you are the most hated person in the eyes of the world's nations and you can't harm the Iranian nation," Ahmadinejad said, according to the official Iranian Republic News Agency.

He said Iran would continue uranium enrichment even under threat of U.N. sanctions. "A nation that has resisted until today will resist until the last step and will defend its rights," he said.

The United States and its allies believe Iran is trying to develop nuclear weapons. Iran denies the allegation, saying its nuclear goal is only to generate electricity.

Ahmadinejad did not comment on the election results. But his hard-line foreign policy, in the absence of a strong domestic agenda or economic program, is believed to have divided the conservative base that voted him into the presidency last year.

The president has sharply escalated Iran's standoff with the United States and its allies over several issues. Besides uranium enrichment, he has sparked international outrage for his calls to eliminate Israel and for casting doubt on the Nazi Holocaust.

Election results outside Tehran also showed a heavy defeat for Ahmadinejad supporters. None of his candidates won seats on the councils in the cities of Shiraz, Bandar Abbas, Sari, Zanjan, Rasht, Ilam, Sanandaj and Kerman, and many councils in other cities were divided like Tehran's.

Similar anti-Ahmadinejad sentiment appeared in final results of a parallel election for the Assembly of Experts, the body of 86 senior clerics that monitors Iran's supreme Islamic leader and chooses his successor.

A big boost for moderates within the ruling Islamic establishment was visible in the large number of votes for former President Hashemi Rafsanjani, who lost to Ahmadinejad in the 2005 presidential election runoff.

Rafsanjani, who supports dialogue with the United States, got the most votes of any candidate from Tehran to win re-election to the assembly.

Opposition candidates demanded that Ahmadinejad pay more attention to unemployment, now estimated at 11 percent, and other economic problems. He has failed to carry through on several domestic campaign promises, including a pledge to send a share of the country's oil revenues to every family and to implement an anti-poverty program.

The moderate daily newspaper Etemad-e-Melli, or National Confidence, urged Ahmadinejad to change his policies if he has any respect for the vote.

"The result of the elections, if there is any ear to listen or any eye to see, demands reconsideration in policies," the paper said in an editorial Thursday.

Conservative lawmaker Emad Afroogh also called on Ahmadinejad to learn a lesson from the vote. "The people's vote means they don't like Ahmadinejad's populist methods," Afroogh told The Associated Press.

Reformist Saeed Shariati also said the results of the election were a "big no" to Ahmadinejad and his allies, who he accused of harming Iran's interests with their hard line.

"We consider this government's policy to be against Iran's national interests and security. It is simply acting against Iran's interests," said Shariati, a leader of the Islamic Iran Participation Front, Iran's largest reformist party. His party seeks democratic changes within the ruling Islamic establishment and supports relations with the United States.