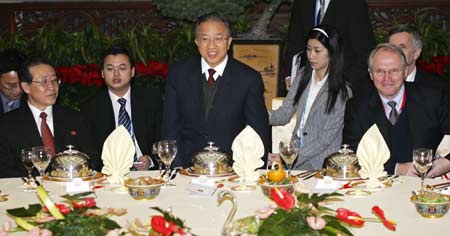 North Korean envoy Kim Kye-gwan (L) and US Assistant Secretary of State Christopher Hill (R) take their seats with Chinese Vice Foreign Minister Dai Bingguo (C) before the start of a banquet in Beijing's Diaoyutai State Guesthouse after the second day of six-party talks on North Korea's nuclear program December 19, 2006. [Reuters]


Beijing - US and North Korean diplomats met face-to-face Tuesday to discuss international efforts to get the country to give up its nuclear arms program and the North's demand for Washington to stop trying to freeze it out of the global banking system.
On Wednesday, the main US envoy at the latest round of six-nation talks called on delegates to start hashing out the substantive details of North Korean nuclear disarmament if they hoped to make any progress this week.
US officials gave no indication of any progress after the first two days of talks. The negotiations have failed over more than three years of meetings to dismantle the North's atomic weapons program -- or prevent its first nuclear test explosion Oct. 9.
Special coverage:
North Korea Nuclear Crisis

Related readings:
US plans one-on-one N.Korea talks
US sees no concession on NKorea assets
US, N.Korea begin financial meeting
North Korea insists on nuclear status
N.Korea wants UN sanctions lifted
Six-party talks resume in Beijing
"We don't have really any breakthroughs to report," US Assistant Secretary of State Christopher Hill said Tuesday after meeting with a North Korean delegation on the nuclear weapons issue. Financial experts discussed the banking restrictions separately. Hill was hold a second one-on-one meeting with the North Koreans Wednesday.

Hill has declined to release details of any US proposals to the North, but a news report Wednesday said the Americans had outlined a process whereby Pyongyang would first freeze its nuclear program, followed by inspections and eventual dismantlement.

Washington would be willing to give the North a written security guarantee, a pledge that it wouldn't seek to topple the regime by force, as soon as it allows the return of international nuclear inspectors, South Korea's Yonhap news agency said, citing "diplomatic sources" at the talks.

South Korean nuclear negotiator Chun Yung-woo declined to confirm specifics, but said the ideas were simply "an official detailed and concrete proposal" of what the sides had previously discussed.

Before the start of the third day of meetings Wednesday, Hill stressed that delegates from the six countries -- China, Japan, Russia, the US and the two Koreas -- should start working on a draft agreement if they hoped to make any progress at this round.

"If we are going to get to the end of the week and have something tangible, I think we probably need to be working at something on paper in the very near future," he said.

Earlier, he said a failure in the talks could lead to more sanctions against Pyongyang.

The North entered the talks by restating its long-held demands, emboldened by its confirmed nuclear status and raising doubts about chances for a quick resolution of the standoff that began in late 2002.

The country pledged in September 2005 to abandon its nuclear arms program in exchange for security guarantees, diplomatic recognition and economic aid.

But just days before that agreement, the US blacklisted a Macau bank where the Pyongyang held accounts, charging it was aiding the North's alleged counterfeiting of $100 bills and money laundering. The US also urged other countries to bar North Korean accounts.

The North later said that move was the reason for its refusal to participate in nuclear talks for more than 13 months, but agreed to return when the US said it would discuss the financial restrictions.

When the nuclear talks opened Monday, the North demanded anew that the bank measures be lifted as a precondition for discussing disarmament.

US and North Korean financial experts were meeting Wednesday for a second time separately from the arms talks to discuss the financial sanctions issue. The two sides met for three hours Tuesday, but a US Treasury Department official said there was no quick fix.

"If this is going to be a very productive dialogue, then this is going to have to be a long-term process that really is working to address the underlying concerns that we have been articulating and that are the underlying concerns of the international financial community," Daniel Glaser, deputy assistant secretary for terrorist financing and financial crimes said Wednesday.

Chinese Foreign Ministry spokesman Qin Gang said at a news briefing Tuesday that China's government hopes the two sides can "solve the issue properly."

Hill praised China's will to persuade North Korea to disarm since the nuclear test and said Beijing had a "very special role to play."

"To solve the problem of the (North's) nuclear ambitions is going to require a great effort by China," he said. "We cannot do it by ourselves, we need to work in this multilateral framework."

Hill said the talks were of critical importance for the North.

"I really do believe that at the end of this six-party process, however it turns out, it will help determine that country's future in a way I think is fairly profound," he said.