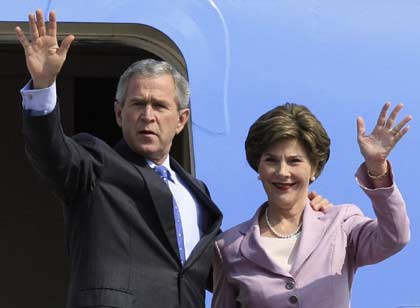 US President George W. Bush and First Lady Laura Bush wave after arriving at Hanoi's Noi Bai International airport for the Asia-Pacific Economic Cooperation (APEC) summit November 17, 2006.[Reuters]

Hanoi -- US President Bush said Friday the United States' unsuccessful war in Vietnam three decades ago offered lessons for the American-led struggle in Iraq. "We'll succeed unless we quit," Bush said shortly after arriving in this one-time war capital.
Bush met here with Australian Prime Minister John Howard, one of America's strongest allies in Iraq, Vietnam and other conflicts. The president said there were lessons to be learned from the divisive Vietnam war -- the longest conflict in US history -- as the United States wages the unpopular war in Iraq, now in its fourth year.
Special coverage:APEC Viet Nam 2006

Related readings:
Countries' economic partnership gets a fillip
President Hu in Hanoi for APEC summit 
APEC leaders set for silky show
APEC senior official's meeting ends
APEC leaders to call for study on FTA
APEC to approve counter-terrorism pact
APEC leaders to urge fight against bird flu
"We tend to want there to be instant success in the world, and the task in Iraq is going to take awhile," the president said. He called the Iraq war a "great struggle" and said, "It's just going to take a long period of time for the ideology that is hopeful -- and that is an ideology of freedom -- to overcome an ideology of hate."
In the years since the 1975 fall of the Washington-backed regime in Saigon, the United States and Vietnam have reconciled their war differences. Bush said he found it hopeful that countries can "move beyond past differences for the common good."
As his motorcade moved through Hanoi, Bush passed Truc Bach lake, where then-Lt. Cmdr. John McCain, now a Republican senator from Arizona, was captured after parachuting from his damaged warplane. McCain spent more than five years as a prisoner during the Vietnam War, which claimed the lives of more than 58,000 Americans.
The collision of past and present seemed to affect Bush.
"Laura and I were talking about how amazing it is that we're here in Vietnam," the president said.
"My first reaction is history has a long march and societies change and relationships can constantly be altered to the good," Bush said.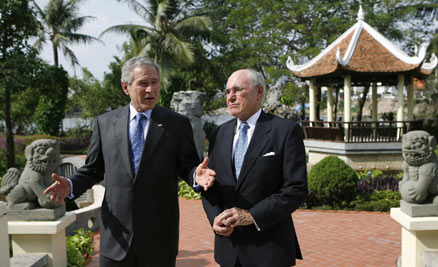 US President George W. Bush and Australia's Prime Minister John Howard talk to reporters after their lunch meeting in Hanoi, Vietnam November 17, 2006. Both leaders are in Hanoi to attend the APEC Summit. [Reuters]

Bush said that "the world that we live in today is one where they want things to happen immediately and it's hard work in Iraq."
Bush said he assured Howard that "we will get the job done" and will stand with the embattled government of Iraqi Prime Minister Nouri al-Maliki.
"We'll succeed unless we quit," Bush said. "The Maliki government is going to make it unless the coalition leaves before they have a chance to make it."
Bush expressed appreciation for Australia's help and said he recognized there were questions about the US role in Iraq and the deployment of about 144,000 American forces.
Howard pledged that Australia would not abandon Iraq.
"The idea of the coalition leaving in circumstances where the Iraqi people would not seem to be able to look after themselves and to enjoy the democracy they want would be a catastrophic defeat for our cause," the prime minister said.
Less than two weeks after US elections overturned Republican control of Congress and sent a clear message of disapproval about the war, Bush offered his own interpretation of the vote.
"The elections mean the American people want to know if we have a plan for success. I assured John that any repositioning of troops -- if that's what we choose to do -- will be done with close consultation with John and his government. But I also assured him that we're not leaving until this job is done -- until Iraq can govern, sustain and defend itself."
A new Associated Press-Ipsos poll conducted after the election indicates that Americans' approval of Bush's handling of Iraq has dropped to just 31 percent -- the lowest level ever.
He brushed off suggestions that the United States might beef up its forces in Iraq and said, "I'm going to listen to our commanders. Ours is a conditions-based strategy."
Vietnamese officials greeted Bush and his wife, Laura, at the airport on humid and hazy morning. Two young girls, wearing traditional white garments called ao dai that flowed with the breeze, presented each with a colorful bouquet of flowers.
Interest in Bush's arrival seemed subdued compared with the massive, joyous crowds that stayed up late for President Clinton's unannounced midnight flight into Hanoi's international airport in 2000.
Before attending a state dinner Friday evening, Bush was to drop by the headquarters of the Communist Party to talk with its general secretary.
Bush came to Vietnam for a summit of Asia-Pacific leaders and individual meetings with a handful of leaders -- all of them curious whether election setbacks had unsettled Bush.
Bush will draw on his powers of personal diplomacy in meetings Saturday and Sunday with Russia's Vladimir Putin, China's Hu Jintao, Japan's Shinzo Abe and South Korea's Roh Moo-hyun. All are partners with the United States in talks aimed at persuading a defiant North Korea to abandon its nuclear weapons.
Bush flew here from Singapore after warning North Korea against peddling its weapons and vowing the United States will not retreat into isolationism.
Although Republicans lost control of Congress, Bush directly challenged newly empowered Democrats who are demanding a fresh course in Iraq and fearful that free-trade agreements could cost US jobs.
"We hear voices calling for us to retreat from the world and close our doors to these opportunities," the president said in a speech at the National University of Singapore. "These are the old temptations of isolationism and protectionism, and America must reject them."