In choosing Robert M. Gates as his next defense secretary, President Bush reached back to an earlier era in Republican foreign policy, one marked more by caution and pragmatism than that of the neoconservatives who have shaped the Bush administration's war in Iraq and confrontations with Iran and North Korea.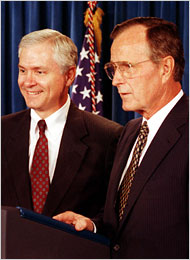 Robert M. Gates in 1991, when he was nominated to lead the CIA [AP]


Soft-spoken but tough-minded, Mr. Gates, 63, is in many ways the antithesis of Donald H. Rumsfeld, the brash leader he would replace. He has been privately critical of the administration's failure to execute its military and political plans for Iraq, and he has spent the last six months quietly debating new approaches to the war, as a member of the Iraq Study Group run by James A. Baker III and Lee H. Hamilton.

Mr. Gates last served in Washington 13 years ago, and Mr. Bush made clear on Wednesday that he regarded his nominee as someone who would bring new perspective to the final two years of his tenure.

It was under Mr. Bush's father that Mr. Gates first rose to influence, as deputy national security adviser and then director of central intelligence. He was not part of the group that advised the current President Bush during his 2000 campaign, and he has publicly questioned the administration's approach to Iran, saying in a 2004 report for the Council on Foreign Relations that its refusal to talk to the Tehran government was ultimately self-defeating.

"This is a signal that there will be a major effort to avoid confrontation on national security issues," said Dov Zakheim, a former senior official in Mr. Rumsfeld's Pentagon who left the administration in 2004. He described Mr. Gates as "a pragmatist and a realist" who would be "no lightning rod."

Related readings:


Democrats take control of the Senate


Bush pledges to work with Democrats


Bush disappointed at Republicans' losses


World welcomes shift in US politics


Iraq hopes US vote means more security


Hillary re-elected amid presidential talk


Schwarzenegger wins 2nd gov. term


Bush's speech before Election Day


Election Day will bring power struggle


US parties flush with cash for election sprint


Bush expects Republicans to win on Election Day

A longtime Soviet analyst who spent two decades at the Central Intelligence Agency, Mr. Gates served as deputy to Brent Scowcroft, the national security adviser, during the administration of George H. W. Bush. There, he worked closely with Mr. Baker and Condoleezza Rice. Gen. Michael V. Hayden, now the CIA director, also served on the staff of the National Security Council at the time.

Mr. Gates was confirmed in 1991 as director of central intelligence after a bruising confirmation fight in which subordinates alleged that he had politicized reporting on the Soviet Union. He has spent the last 13 years outside of government, in lucrative business posts and at Texas A&M University, first as dean of the George H. W. Bush School of Government and since 2002 as president.

Only 22 months ago, Mr. Gates turned down President Bush's invitation to become the first director of national intelligence. After agonizing for more than two weeks, Mr. Gates later recounted, he decided during a tearful, late-night walk that he "could not leave" the university to return to Washington.

But since March, as a member of Mr. Baker's Iraq Study Group, Mr. Gates has been pondering the central defense policy quandary facing the administration. Summoned to the president's ranch over the weekend and offered the defense secretary's job, this time Mr. Gates said yes.

"Because so many of America's sons and daughters in our armed forces are in harm's way, I did not hesitate when the president asked me to return to duty," Mr. Gates said at the White House ceremony on Wednesday.

Zbigniew Brzezinski, national security adviser under President Carter and co-author with Mr. Gates of the report on Iran policy, said he hoped the appointment would mean "a major corrective in American policy toward the Middle East."

Born and raised in Wichita, Kan., Robert Michael Gates, whose father sold wholesale auto parts, became an Eagle Scout (he is currently president of the National Eagle Scout Association) and studied European history at the College of William and Mary. He was recruited by the intelligence agency while completing a masterí»s degree at Indiana University and in 1974 finished a doctorate at Georgetown University, writing his dissertation on Soviet views of China.

| | | |
| --- | --- | --- |
| 1 | 2 | |