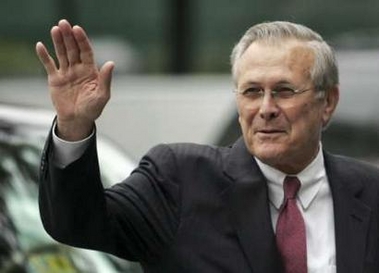 US Secretary of Defense Donald Rumsfeld waves to well-wishers as he departs the White House after US President George W. Bush announced Rumsfeld's replacement in Washington November 8, 2006. Rumsfeld, the controversial face of US war policy, quit on Wednesday after Democrats rode Americans' anger and frustration over Iraq to victory in Tuesday's congressional elections. [Reuters]



WASHINGTON - After years of defending his secretary of defense, US President Bush on Wednesday announced Donald H. Rumsfeld's resignation within hours of the Democrats' triumph in congressional elections. Bush reached back to his father's administration to tap a former CIA director to run the Pentagon.

Democrats wrested control of the Senate from Republicans Wednesday with an upset victory in Virginia, giving the party complete domination of Capitol Hill for the first time since 1994.

The Senate had teetered at 50 Democrats, 49 Republicans for most of Wednesday, with Virginia hanging in the balance. Webb's victory ended Republican hopes of eking out a 50-50 split, with Vice President Dick Cheney wielding tie-breaking authority.

The Iraq war was the central issue of Rumsfeld's nearly six-year tenure, and unhappiness with the war was a major element of voter dissatisfaction Tuesday - and the main impetus for his departure. Even some GOP lawmakers became critical of the war's management, and growing numbers of politicians were urging Bush to replace Rumsfeld.

Related readings:


Democrats take control of the Senate


Bush pledges to work with Democrats


Bush disappointed at Republicans' losses


World welcomes shift in US politics


Iraq hopes US vote means more security


Hillary re-elected amid presidential talk


Schwarzenegger wins 2nd gov. term


Bush's speech before Election Day


Election Day will bring power struggle


US parties flush with cash for election sprint


Bush expects Republicans to win on Election Day

Bush said Robert M. Gates, 63, who has served in a variety of national security jobs under six previous presidents, would be nominated to replace Rumsfeld. Gates, currently the president of Texas A&M University, is a Bush family friend and a member of an independent group studying the way ahead in Iraq.

The White House hopes that replacing Rumsfeld with Gates can help refresh US policy on the deeply unpopular war and perhaps establish a stronger rapport with the new Congress. Rumsfeld had a rocky relationship with many lawmakers.

"Secretary Rumsfeld and I agreed that sometimes it's necessary to have a fresh perspective," Bush said in the abrupt announcement during a postelection news conference.

In a later appearance at the White House with Rumsfeld and Gates at his side, Bush praised both men, thanked Rumsfeld for his service and predicted that Gates would bring fresh ideas.

"The secretary of defense must be a man of vision who can see threats still over the horizon and prepare our nation to meet them. Bob Gates is the right man to meet both of these critical challenges," Bush said.

In brief remarks, Rumsfeld described the Iraq conflict as a "little understood, unfamiliar war" that is "complex for people to comprehend." Upon his return to the Pentagon after appearing with Bush and Gates, Rumsfeld said it was a good time for him to leave.

"It will be a different Congress, a different environment, moving toward a presidential election and a lot of partisanship, and it struck me that this would be a good thing for everybody," Rumsfeld told reporters.

But underscoring that he would not bow to those pushing for a quick US withdrawal, he also said, "I'd like our troops to come home, too, but I want them to come home with victory."

There was little outward reaction among officials at the Pentagon, beyond surprise at the abrupt announcement.

Asked whether Rumsfeld's departure signaled a new direction in a war that has claimed the lives of more than 2,800 US troops and cost more than $300 billion, Bush said, "Well, there's certainly going to be new leadership at the Pentagon."



| | | |
| --- | --- | --- |
| 1 | 2 | |