BAGHDAD, Iraq - A day after Saddam Hussein was sentenced to hang, the Shiite-dominated government offered a major concession Monday to his Sunni backers that could see thousands of members of the ousted dictator's Baath party reinstated in their jobs.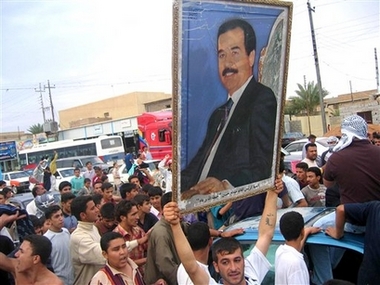 A man holds up a framed image of deposed Iraqi leader Saddam Hussein as they protest his death sentence for crimes against humanity, in Fallujah, 65 kilometers (40 miles) west of Baghdad, Iraq, Monday Nov. 6, 2006. [AP]

With a tight curfew holding down violence after Saddam's guilty verdict and death sentence, the government reached out to disaffected Sunnis in hopes of enticing them away from the insurgency, which has killed tens of thousands of Iraqis and is responsible for the vast majority of US casualties.
Special coverage:
Iraq after War and Saddam on trial

Related readings:
Iraq casts shadow on US election
Bush hails verdict as milestone for Iraq
Saddam verdict opinion differs worldwide
Round-the-clock curfew keeps lid on Iraq
Chinese experts: Sentence may aggravate situation
Iraq shuts down 2 Sunni TV stations
Bush pledges support for Iraq PM
US death toll in Iraq worst in a year
The US military announced the deaths of five more American troops, two in a helicopter crash north of Baghdad and three in fighting west of the capital. The deaths raised to 18 the number of US forces killed in the first six days of November.
Relentless sectarian killings also persisted despite the extraordinary security precautions. Fifty-nine bodies were discovered Sunday and Monday across Iraq, police said. But with no surge in violence, authorities were gradually lifting the restrictions in Baghdad and two restive Sunni provinces: Pedestrians were allowed back on the capital's streets late Monday afternoon, and the international airport was to reopen Tuesday morning.
Around the country, jubilant Shiites celebrated the verdict while Sunnis held defiant counter-demonstrations.
Iraq's appeals court is expected to rule on an appeal by Saddam's lawyers by the middle of January, the chief prosecutor said Monday, setting in motion a possible execution by mid-February. If the ruling is upheld, The Associated Press has learned that Iraq's three-man presidential council is pledged to allow Saddam's hanging to take place. The execution must be carried out within 30 days of the appeals court's decision.
Sunday's verdict and Monday's opening to the Sunnis were seen as a welcome break for the United States, which had recently called for the Iraqi government to stop purging members of Saddam's Baath party from their jobs. Prime Minister Nouri al-Maliki, however, has balked at US requests to set up an amnesty for insurgents.
Al-Maliki has been engaged in a public feud with US Ambassador Zalmay Khalilzad since last month, when the prime minister disputed the envoy's announcement that he had agreed to a timeline for progress in quelling violence and encouraging Sunnis to join the political process.
On Monday, there were indications Khalilzad was preparing to leave his post.
| | | |
| --- | --- | --- |
| 1 | 2 | |