What Biden really ate in Beijing
Updated: 2011-08-28 08:00
By Pauline D Loh and Yu Yilei (China Daily)
| | | | | | | | | |
| --- | --- | --- | --- | --- | --- | --- | --- | --- |
|   | | Print | | Mail | | Large Medium  Small | 分享按钮 | 0 |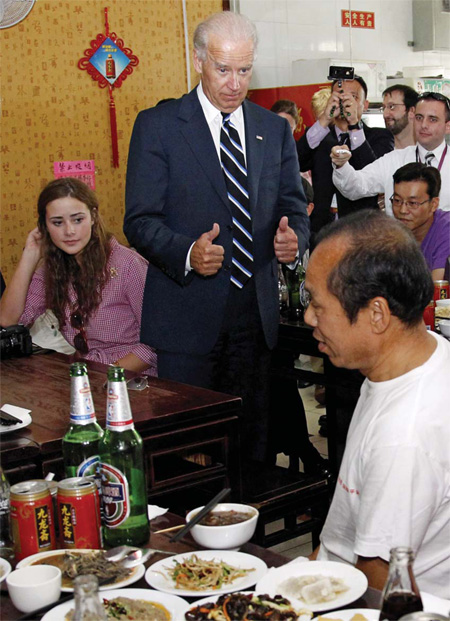 Vice-President Joe Biden gave the thumbs-up to some old-time Beijing dishes at Yaoji Chaogan as granddaughter Noami looked on. Ng Han Guan / Agence France-Presse

From far left: Beancurd puffs and pig's insides are braised for luzhu huoshao, a working man's snack in Beijing. The best-sellers at Yaoji are the buns, the liver stew and the noodles. Yaoji has been selling old Beijing staples for the last 30 years. Photos Bypauline D Loh / China Daily
The US Vice-President sampled some down-home Beijing nosh, which arrived with some practical Beijing hospitality. Pauline D Loh and Yu Yilei find out how he liked eating like a native.
Dry humor, straight talk and a delicate tread between modesty and pride. Restaurant owner Yao Yan rules her little shop like a Beijing matriarch, and she treated the vice-president of the United States no differently from the local diners who throng to her eatery every day.
The call came at 10 am. The embassy said they were bringing a few important visitors. It was not until Joe Biden's entourage crowded into her front dining hall that Yao realized who she was going to be serving noodles to.
Her shop is Yaoji Chaogan, a family business in the shadow of Beijing's Drum Tower, right by the edge of the Forbidden City, near the lakeside Houhai bar area. "Chaogan" translates to fried liver but it really is the name of an offal stew with pieces of liver and intestines suspended in a thick, starchy sludge flavored heavily with garlic.
However, China Daily found out that Biden did not sample this signature dish. Instead, the order for his table was five bowls of zhajiang (bean paste) noodles, some cold-tossed cucumbers and potatoes and the shop's famous pork and onion buns. All washed down with Coca-Cola. His total bill came to 79 yuan ($12.30), and he paid with a 100-yuan bill, and a "keep the change".
What he also got were some homilies from the lady boss, who greeted the politician with a hello-welcome-to-Beijing and said she hoped both the Chinese and the American people will enjoy happy, healthy, prosperous lives.
In reply, Biden praised Yao for being a seasoned diplomat.
Indeed she is. Although she declared she was avoiding the media because they misquoted her, Madam Yao happily spoke to us for about 15 minutes in the restaurant corridor. Busy wait staff had to squeeze through to get to the other dining rooms, and most ducked their heads out of respect as they carefully maneuvered past, laden down with orders of liver sludge, zhajiang noodles, steaming hot buns and other Beijing favorites.
She told us Biden visited on a busy day, just like any other, and the daughter of a friend, who spoke English, took orders for the table. Yao had no problems with Biden's party, which included his Chinese-speaking granddaughter, Naomi, but the press corps was a little unruly, she said. They even took the seats of other patrons.
On the whole, it was a pleasant distraction in Yaoji's busy routine, but Yao said Biden's visit did not affect business, either way.
Yaoji has been in the same location for more than 30 years, and the business was founded by her father, who was already in his 70s when he started. The restaurant offers classic Beijing staples and snacks.
Its reputation has been built through the years, and it's now an institution famous both among locals, and the odd tourists.
"We had some Spanish tourists in the other day, and they loved the chaogan. Not the Americans. They don't know how to eat intestines," Yao said.
When we visited, we decided to try the liver stew Biden did not order. It was strong, but then it needed to be to neutralize the rather piggy smell of the large intestines and there was plenty of garlic floating in it.
It is potent, and it probably takes a true Beijing native to enjoy every spoonful, but we hope, as Yao Yan did, that Vice-President Biden enjoyed the dining experience and the company and took away much more than just 100-yuan worth of goodwill between our countries.
SIGNATURE DISHES:
Chaogan (Liver Stew): A strong starchy stew with slices of liver and large pig intestines, flavored with lots of garlic. 4 yuan for a small bowl, 6 yuan for a larger serving.
Zhajiang noodles: Handmade noodles served with deep, rich stir-fried bean paste, shredded cucumber and watermelon radish. 9 yuan for a standard bowl.
Pork and onion baozi: Little steamed buns of juicy, succulent pork and onions. They cost 1 yuan apiece, but it's easy to polish off four or five at one seating.
Luzhu huoshao: Bean-paste stew that has pieces of huo shao (dough dumplings), beancurd puffs and stewed lungs. Traditionally a street side delight for the common folks of Beijing. Costs anything from 15 upwards depending on what you want added to the basic stew.
You can contact the writers at paulined@chinadaily.com.cn
yuyilei@chinadaily.com.cn.
(China Daily 08/28/2011 page3)