The troubles ordinary travelers face in getting train tickets during Spring Festival have caught the attention of the country's top leader.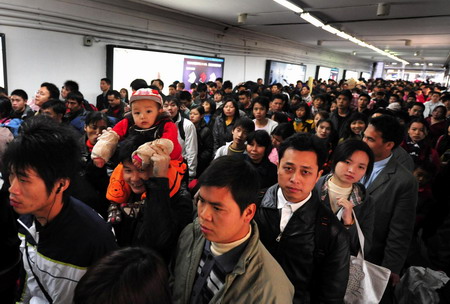 People crowd a passage to a railway platform at Guangzhou railway station in Guangzhou, south China's Guangdong province January 10, 2009. [Xinhua] 
Moved by reports of people's inconvenience, President Hu Jintao asked the Ministry of Railways on Wednesday to remove all hiccups in the sale of tickets to individual passengers.
The instruction, posted on the ministry's website yesterday, drew applause from the public. "It shows the leaders are trying to solve people's problems," wrote a netizen from Hunan province.
After Hu's instruction, the first by a top leader, the ministry called a press conference to announce a series of measures to resolve the ticket issue. They include suspending contracts to sell tickets to hotels and travel agencies, and putting all tickets on sale for individual passengers, Vice-Minister of Railways Wang Zhiguo said.
Related readings:


 Railway ministry apologizes, vows better service


 Police to monitor online train ticket scalping


 Spring Festival rush for home puts China to harmony test


 Rush to travel back home begins in earnest
To prevent scalpers from colluding with railway employees, the ministry has ordered its staff not to carry cash or cell phones into ticket offices. Ticket booking clerks have also been forbidden from buying tickets for others.
Those violating the rules will be removed from their posts, Wang said.
Most people have blamed scalpers for the dearth of tickets at railway counters during the peak traveling season, which sees the largest movement of people in the world.
Others have said the number of trains and the existing railway network are not enough to carry the huge number of people. This season alone, about 188 million passengers are likely to travel by train in just 40 days, for which the ministry has put many temporary trains into service.
Official statistics show the railways carried an average of 4.54 million passengers a day from Sunday to Wednesday, up 8.5 percent year-on-year.
Minister of Railways Liu Zhijun said last month that the ticket problem could ease only in 2012 when the express passenger network would increase from the existing 70,000 km to 110,000 km.
Despite that, many people say Hu's instruction will improve things this peak season itself. They expect the ministry to make full use of its resources now to best serve passengers both on trains and at stations, where millions queue up to buy tickets.
Hu's instruction came after two incidents that evoked more anger against the railways.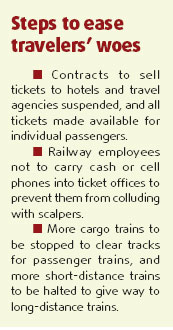 The first took place in Hangzhou, Zhejiang province, where a man in his 60s died suddenly while reportedly waiting overnight for a train ticket.
The other incident occurred at Beijing Railway Station on Saturday. Three video clips on YouTube show an employee closing the ticket counter and printing lots of tickets. Many people have alleged, the tickets were meant to be sold to scalpers.
Wang Yongping, ministry spokesman, however, clarified yesterday that the man who died in Hangzhou was not waiting to buy tickets. He used the place just to sleep.
It is true the video clips show the employee printing tickets, said Zhang Qinghe, a railway police bureau officer in charge of the investigation. But the 130 train tickets she was printing were to help speed up sales across several counters.
The severity of the ticket problem prompted popular news portal Sina.com to conduct a survey early this month. A total of 47.3 per cent of the respondents said that during Spring Festival, train tickets could only be bought with the help of influential people because scalpers block a large chunk of the tickets.
This year, however, the railways ministry has intensified its crackdown on scalpers, arresting 2,390 of them and seizing 78,200 tickets from their possession.