For many Chinese who want to nab railway tickets home for the annual Spring Festival migration, the government's promise of having a better system by 2012 is just a distant hope.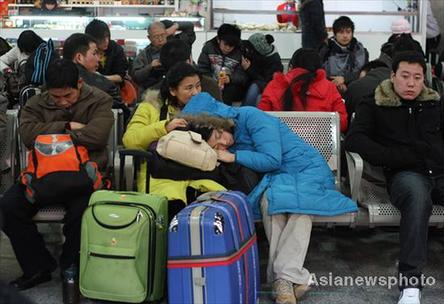 Travelers wait for trains at Beijing West Railway Station, January 1, 2009. Millions of people started setting home on long journeys on Friday from Beijing as the city kicked off its Spring Festival travel season early. [Asianewsphoto] 
Starting Friday, the first day to book tickets for the travel rush expected to last from January 11 to February 28, long queues appeared at ticket booths in almost every major railway hub.
In Wuhan, college students were first hit by the rush, as many schools' winter break starts from January 10 to 17.
As more than 70 percent of the one million students residing there were expected to go home by train, local railway authorities have set up ticket agents on campus, opened more ticket booths for students at stations and offered special trains for students.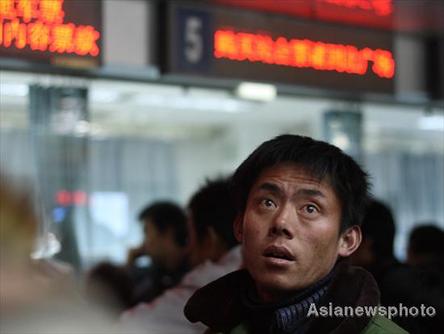 A man looks at an electronic schedule board at Beijing West Railway Station, January 1, 2009. [Asianewsphoto]
But many still found it difficult to get tickets, especially to Urumqi, Qingdao, Jinan, Harbin, Zhanjiang and Nanning. At the Wuchang Railway Station alone, more than 60,000 tickets were sold on Friday.
In Shanghai, police and security officers were put 24-hour on guard to maintain order and prevent accidents. They gave each passenger a number and assigned them to different waiting lines.
At the Beijing West Railway Station, 15 temporary ticket booths have been opened. To keep the lines at no more than 20 people as required by the Railway Ministry, Beijing railway authority set up 410 ticket booths at the main Beijing Railway Station and the Beijing West Railway Station. Tickets will be sold around the clock.
Related readings:


 Festival rush kicks off in China

 Beijing, Shanghai brace for festival rush in advance


 China expands vehicle safety checks for festival travel peak

 Holiday travel steady despite slowdown


 Holiday travel to drop for first time since '02
Deputy General Manager of the Guangzhou Railway Group Cao Jianguo asked passengers to "be patient" and "try again" with the booking telephone hot line 96020088 in Guangdong.
Nine stations in the southern province have been networked this year with the telephone hotline, which means passengers can pick up or cancel reserved tickets much more easily by showing identification.
At Guangzhou railway stations, the Guangzhou Command College of Armed Police was mobilized at seven ticket booths. They were on duty during last year's Spring Festival rush, which was aggravated by unusual snowstorms.
The Railway Ministry expects 188 million people to travel during the coming travel rush, up 8 percent from last year, with daily traffic expected to hit 4.7 million people.
Beijing, Guangzhou, Shanghai and Hangzhou are the "most bustling hubs" before the Spring Festival, which falls on January 26, so railway authorities have added 319 temporary express passengers trains this year.
Despite these efforts, many passengers still feared that they might not be able to get tickets to get home in time.
Qiao Kejiao, a Beijing hospital clerk, said she might resort to being duty on Lunar New Year Eve and traveling on the second day, when traffic would be lighter.
In a work meeting that closed on Thursday, Railway Minister Liu Zhijun attributed the annual travel ordeal to inadequate rail networks. The work meeting decided that speeding up railway construction and securing railway transportation were the ministry's priority tasks in 2009.
Liu foresaw a "historic change" in 2012 when intensive investment would extend total track mileage to 110,000 km, including 13,000 km of passenger lines on which trains could run between 200 to 350 km per hour.
The scenario does not offer any immediate comfort. Associate senior editor of the Study Times, Deng Yuwen, said the real solution was not in hardware improvement such as more tracks but in management and service.
In a column in the Shanghai-based Oriental Morning Post on Saturday, he said that the per capita railway mileage in China was only 6 cm, shorter than a cigarette.
"Even after the mileage is extended from the current 78,000 km to 110,000 km, per capita rail lines in China will only be 8.5 cm. Can we really say good-bye to ticket shortages by then?"
The real culprit, he wrote, was insufficient capacity. To improve the capacity, foreign and private capital should be introduced to break the government monopoly in railway investment, he said.
The ticket distribution system should also be streamlined to avoid the "gray zone" where so-called "contract units" such as tourism agencies and outlets take advantage of contacts to hoard tickets that are then re-sold for illegal profits.
Ticket purchases under real names, a proposal that has been repeatedly rejected by the railway authorities, could help improve management and services, he said.