The South Korean women's 3,000m relay short track speed skating team was disqualified minutes after the four skaters enjoyed an honor lap, as the judge ruled an impeding fault when passing and awarded the gold to second finisher China. The following are what some people in the know explained about the judging:

This combined photo shows South Korea's Kim Min-jung (R) impedes China's Sun Linlin during the women's 3000 metres relay short track speed skating final at the Vancouver 2010 Winter Olympics February 24, 2010. China won the gold medal after the South Korean team was disqualified.  [Photo/Agencies]
Bian Weihua: deputy judge of short track speed skating at Vancouver Games
It was a rarely seen pass. Skaters usually pass before the curve because there is much space to avoid physical contact. Kim Min-jung passed Sun Linlin nearly at the tip of the curve from the inner lap. It was the last resort of South Korea as they were desperate for the gold (only four laps left of the 27-lap race). It reminded me of the Turin Games four years ago when China was disqualified in this discipline because of Wang Meng's fault. She tried to pass at the same position.
Li Yan: chief coach of China's short track speed skating team
We were leading after the push exchange when only four laps were left. The South Korean tried to make a straight cut when her blade nudged Sun Linlin's and affected her route. Sun was timed about 8.9 seconds during the former laps but the collision left her an over-one-second deficit. The judging was reasonable because it was the final moment and a fault like this can affect the result.
Yang Yang (A): former short track speed skater and IOC member
The South Korean affected Sun Linlin's route at a very crucial moment when China had the chance to win. The fault judging may not have come if it happened during the starting laps. The ISU (International Skating Union) ruled that the skater trying to pass takes the full responsibility when there is physical interference. Sun Linlin was skating in her route when nudged by Kim Min-jung outside.
Wang Meng: Member of the gold-winning Chinese team
We got ourselves physiologically-prepared to be the second during the judging review because we had already won two gold medals in short track. But we remained on ice as the South Koreans were celebrating because the judging result had not come out yet.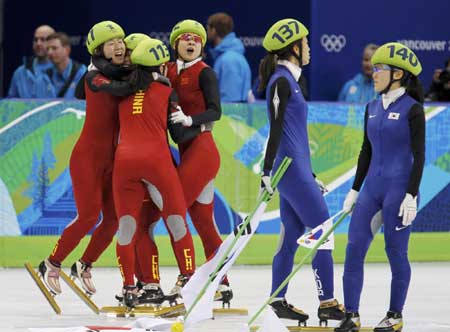 China's gold medallists (L) celebrate as members of South Korea's team Cho Ha-ri and Lee Eun-byul (R) react to their disqualification after the women's 3000 metres relay short track speed skating final at the Vancouver 2010 Winter Olympics February 24, 2010.  [Photo/Agencies]