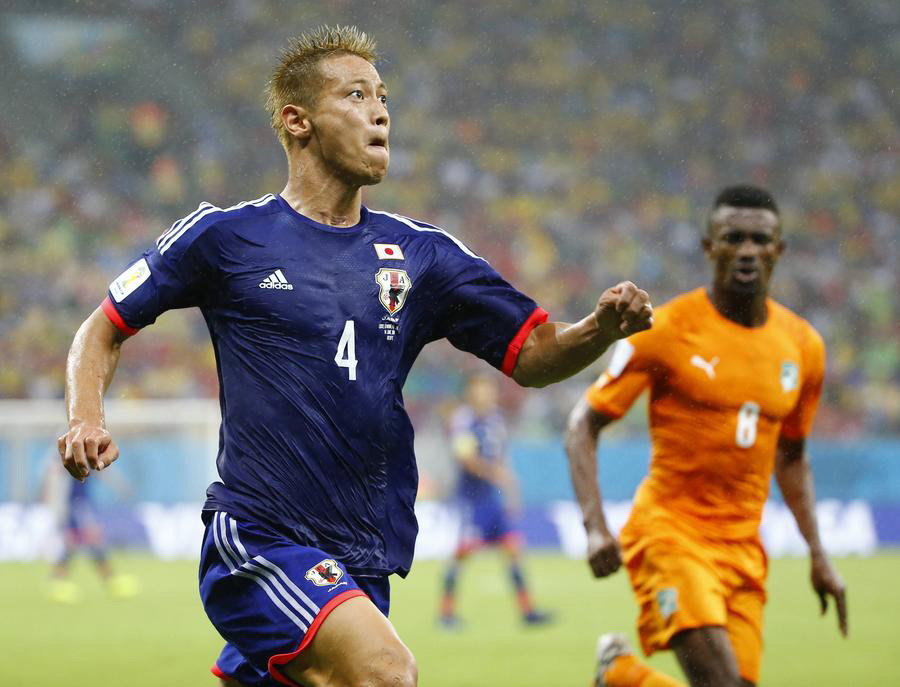 Japan's Keisuke Honda (L) runs for the ball during their 2014 World Cup Group C soccer match against Cote d'Ivoire at the Pernambuco arena in Recife, June 14, 2014. [Photo/Agencies]
Japan had the better of the play in the first half, taking the lead through Honda's hard left-footed strike from about 12 yards in the 16th minute.
Yuto Nagatomo slid a pass across the edge of the penalty area to Honda, who settled the ball cleanly with his right foot before belting his 21st career international goal under the cross bar and inside the near post.
Japan had several chances to widen its lead in the opening 45 minutes, and will rue missing them.
Just minutes after Honda's goal, Japan defender Atsuto Uchida made a run down the right and unloaded a point-blank shot that Cote d'Ivoire goalkeeper Boubacar Barry parried. Honda's curling shot from the edge of the penalty area soon after forced Barry to make a leaping save.
Cote d'Ivoire dominated the second half but the sluggish-looking team was making little headway until the arrival of Drogba galvanized it. Within minutes, Bony's angled header found the goal and then Gervinho scored with a near post header that Kawashima should have saved.
Japan could not make any impression on the Cote d'Ivoire defense in the remaining 20 minutes.
The game marked the World Cup debut for Lamouchi, a 42-year-old Frenchman of Moroccan descent who was widely seen as a surprise hire in 2012. It was also an unpopular move among fans in the Cote d'Ivoire, who favored a more experienced coach for a team which has been to the previous two World Cups, and which has a number of players who have flourished in Europe's top professional leagues.