Li leads china's charge in 2011
Updated: 2011-12-29 07:56
(China Daily)
| | | | | | | | | | | |
| --- | --- | --- | --- | --- | --- | --- | --- | --- | --- | --- |
|   | | Comments() | | Print | | Mail | | Large Medium  Small | 分享按钮 | 0 |
Between Liu Xiang's dramatic comeback, world titles in swimming, badminton and gymnastics and a banner year for the CBA, there was something for everyone in 2011. But nothing could touch Li Na's French Open championship and the sudden surge of interest in the sport among Chinese fans. China Daily picks some of our favorite highlights for the nation this year.

1. New-found glory on the tennis court
China's No 1 sports figure of 2011 was undoubtedly Li Na, the country and continent's first Grand Slam tennis champion.
Screaming with delight after her epic victory over Italian Francesca Schiavone in the French Open final at Roland Garros on June 4, Li wrote her name into Chinese sports history and realized a dream that had been decades in the making.
Her triumph was witnessed by 116 million TV viewers nationwide, the biggest audience in Chinese sports broadcasting history.
The victory in Paris not only has brought Li fame and wealth, but also showed Chinese could top the world in "western" sports, much as basketball icon Yao Ming did in the NBA.
Li's charming personality and witty humor also helped break the stereotype of the silent Chinese athlete and placed her among the leaders of modern-day sports celebrities in China.
As a role model, she provided a major boost for a sport already rising fast in China.
"I congratulate Li on this historic moment, which gives credit to her incredible skill, determination and perseverance," said Stacey Allaster, chairman and CEO of the WTA. "Her win will inspire an entire generation of young girls to play tennis and propel the sport to new levels of global popularity and growth."
China's second highest-ranking female player, Peng Shuai, didn't go so far as to have a historic breakthrough, but did a more consistent year, improving her ranking to a career-best No 14 in August, up from No 78 at the end of last year, and reaching the last 16 of each Grand Slam event except the French Open.
She also stormed into four WTA tournament semifinals and one final, and finished the season with a dazzling 53-21 record, the sixth best of the calendar year.
Meanwhile, veteran Zheng Jie rediscovered her form after coming back from a severe wrist injury while tuning up to pursue the doubles gold medal at the London Olympics with Peng.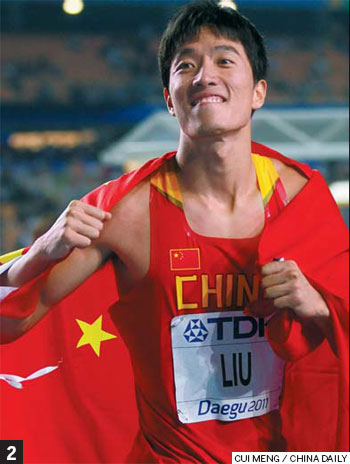 2. Liu Xiang makes a dramatic comeback
Three years after his sudden withdrawal from the Beijing Olympic Games, China's star hurdler Liu Xiang dramatically claimed silver at the IAAF World Championships in Daegu, South Korea, in August. The 28-year-old could have repeated his title-winning feat in Osaka, Japan, in 2007, but hand contact with Dayron Robles of Cuba disturbed his rhythm and he finished third in the breath-taking final, leading to Robles being disqualified and Liu being awarded silver.
Striving to return to peak form, Liu adopted a new technique of approaching the first hurdle with seven steps instead of eight this season, which proved effective in recent races.
Now with the World Championship silver in hand, Liu should be more confident as he strides towards the 2012 London Olympics .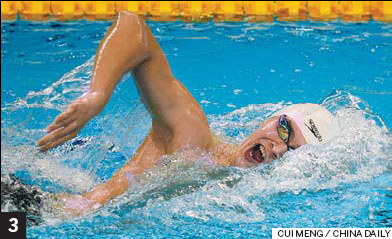 3. A world record in the pool for Sun Yang
If Liu is the trailblazer on the track, young male swimmer Sun Yang is his counterpart in the pool.
Winning the men's 1,500m freestyle gold medal at the FINA World Championships in Shanghai on July 31, the 19-year-old Sun clocked 14 min, 34.14 sec to break the longest-standing world record in swimming - Australian Grant Hackett's 10-year-old mark.
It was only the second world record to fall in pool since the banning of the high-tech swimming suits two years ago after American great Ryan Lochte broke the 200m individual medley mark at the meet.
Excitement also came from another pool as the Chinese women's water polo squad finished runner-up to Greece, its greatest international result, in Shanghai.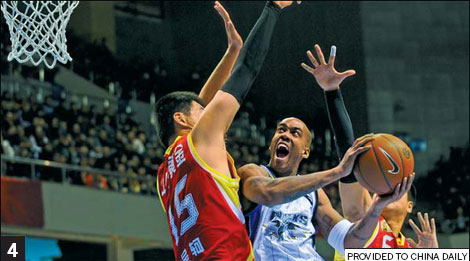 4. NBA lockout lends to CBA's appeal
This summer's NBA lockout generated two groups of people - the jobless players desperate for games and disappointed fans keen for a show. The Chinese Basketball Association (CBA) helped fill those voids left by the shortened NBA season.
A steady stream of NBA stars, including J.R. Smith, Kenyon Martin and Wilson Chandler, joined the Chinese league and drew more attention to the sport here.
While the new-look CBA is reaching a peak domestically, some of the former NBA players have drawn attention overseas.
For instance, Stephon Marbury, whose Beijing Ducks got off to a league-leading start, was featured in the New York Times and Wall Street Journal.
China's Central Television has packed the broadcasting schedule with four games a week and the ratings are soaring.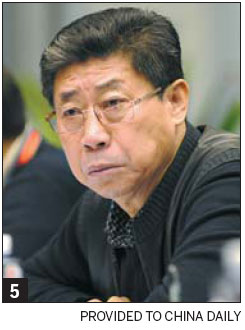 5. China's Zhang takes over AFC
China's Zhang Jilong has temporarily taken charge of the Asian Football Confederation (AFC) after president Mohamed bin Hammam was officially dismissed and suspended by FIFA for life over bribery allegations in July.
The legal committee of the AFC was also in an agreement that an extraordinary congress for the election of president could not be convened until after May 30, 2012, and Zhang will serve as president until that date.
Zhang was also elected as member of the FIFA executive committee in October, marking the first time a Chinese is among the highest authorities of international soccer.
6. Women's volleyball team going to London
China women's volleyball team booked an early ticket to the 2012 London Olympic Games by placing third at the 2011 World Cup in Japan in November.
The Chinese team, which was ranked 10th at the 2010 FIVB World Championships last October and lost four of five matches at the World Grand Prix Finals in Macao in August, finished the World Cup with eight wins, three losses, and was the only team to take points from all of its matches under the new scoring system.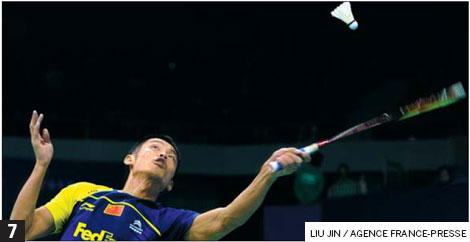 7. Fourth world title for 'Super Dan'
Several withdrawals could not gloss over another sublime year for "Super Dan". China's star shuttler, Lin Dan, pulled off an unparalleled feat in August by lifting his fourth World Championship trophy in Wembley Arena, the venue that will host the same competition at the 2012 Summer Olympics.
The "grand slam" badminton player won his second Asian Championships in April on a day that saw China sweep all five titles, and he also helped China to a fourth consecutive Sudirman Cup title in May.
He also completed a super "Grand Slam" after beating Chen Long in the final at the BWF World Superseries Finals on Dec 18.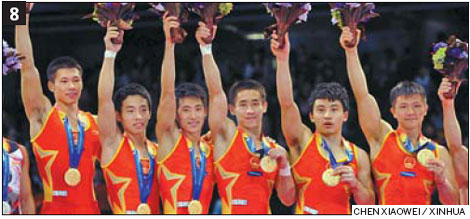 8. Chinese gymnasts on top of the world
Chinese gymnasts topped the 2011 World Gymnastics Championship with four gold medals, five silver and three bronze in Japan in October.
The Chinese men's team overwhelmed host Japan to win its fifth straight title at the Worlds. Olympic champion Zou Kai regained the world horizontal bar crown, while 26-year-old Chen Yibing continued his stunning form on the rings to win his fourth world title in that event.
In the women's section, 19-year-old Sui Lu won gold on the balance beam. The Chinese team also unearthed another rising star, Yao Jinnan, at the tournament. The 16-year-old snatched a silver medal on the balance beam, and two bronze medals in the women's all-round and team events.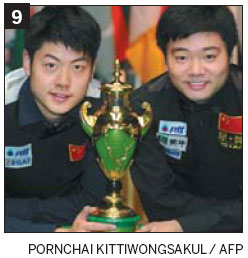 9. A new high for snooker's Ding
Chinese snooker flag bearer Ding Junhui reached his career zenith this year with strong performances in three marquee competitions. The 24-year-old celebrated the 2011 Chinese Lunar New Year by winning the World Masters after beating Marco Fu of Hong Kong at Wembley Arena, London, in January.
At the end of April, Ding made history by reaching the World Championship semifinals. Ding (right), together with teammate Liang Wenbo (left), also lifted the King's Trophy at the PTT-EGAT Snooker World Cup in Bangkok this July after beating Northern Ireland in the final round, which became Asia's first title.
China Daily