The sad side of Chinese sport
Updated: 2011-12-29 07:56
(China Daily)
| | | | | | | | | | | |
| --- | --- | --- | --- | --- | --- | --- | --- | --- | --- | --- |
|   | | Comments() | | Print | | Mail | | Large Medium  Small | 分享按钮 | 0 |
The nation had a lot to celebrate in 2011, but there were also some seriously disappointing moments. China Daily selects the best of the worst for the year 2011.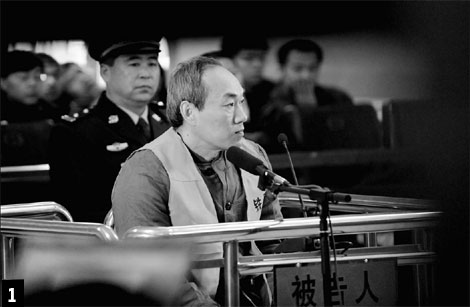 Zhang Jianqiang, the former head of the CFA's referee commission, in court on charges of accepting match-fixing bribes on Dec 19 in Tieling, Liaoning province. A list of probably more than 60 former Chinese soccer officials and referees is involved in the nation's biggest sports-related trial, which kicked off on Dec 19. Zhang became the first defendant, facing charges of taking bribes of up to 2.73 million yuan ($431,579). [Photo/Xinhua]
1. Soccer sorrow
You've heard this one before.
Chinese soccer was again one of the year's biggest disappointments, as all three national lineups were eliminated from the 2012 London Olympics and 2016 Brazil World Cup.
Things began falling apart in June, when the Under-23 team was booted from qualifying for the Summer Olympics by Oman. Head coach Miroslav Blazevic of Croatia - who replaced domestic coach Sun Wei after the team's group knockout at the Guangzhou Asian Games in November of 2010 - ended his brief coaching stint after the loss.
Three months later, the women's team, which had already failed to qualify for last summer's women's World Cup, erased all hope of a Chinese soccer presence in London with a home loss in the Olympic preliminaries in Jinan, Shangdong province. Coach Li Xiaopeng quit after the loss.
Still, it was the men's team that stirred the most debate.
The Chinese Football Association (CFA) replaced domestic coach Gao Hongbo - who guided the senior team's rise from 108th to 73rd in the FIFA rankings - with Spaniard Jose Antonio Camacho in August after Chinese tycoon Wang Jianlin and his Wanda Group decided to subsidize a three-year contract for a big international hire.
However, under the new coach and his assistants - who are paid more than 40 million yuan ($6.26 million) a year - China again failed to escape an early exit from World Cup qualifying.
It's China's third consecutive failure to reach the last round of Asian qualifiers.
The team's exit puts Camacho at the center of debate. The CFA initially took the blame and stressed the Spaniard's appointment was aimed at the sport's long-term development.
"Objectively speaking, the time was so limited for Camacho and his coaching team," said CFA deputy chief Yu Hongchen. "Any coach in the world, despite his fame and professionalism, needs at least two years to build a team, before the players can comprehend and display his strategy and philosophy on the pitch."
"We won't evaluate the coaching team solely on the national team's result in the World Cup qualifiers," CFA deputy chief Wei Di said at the signing ceremony in August. "Instead, we will work more on basic work, including the rebuilding of the youth development system and the training of domestic coaches."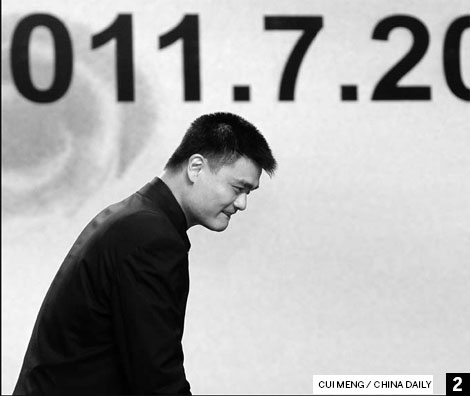 2. Yao retires
A gentle giant bid farewell to the court.
Yao Ming, the backbone of China's national team and an all-star center for the Houston Rockets, announced his retirement on July 20 in his hometown of Shanghai, closing the book on a nine-year injury-plagued NBA career.
Landing in the world's most competitive basketball league as the overall No 1 draft pick in 2002, Yao dominated in the paint, blending his skills with a keen understanding of the game, averaging 19 points, 9.2 rebounds and starting in the All-Star Game seven times.
The 2.26-meter center expanded the game's appeal around the world, while playing a significant role in Sino-US relations as a global ambassador.
Although Yao vowed to continue burnishing his legacy off the court as owner of the CBA's Shanghai Sharks, Chinese fans lost a significant point of national pride.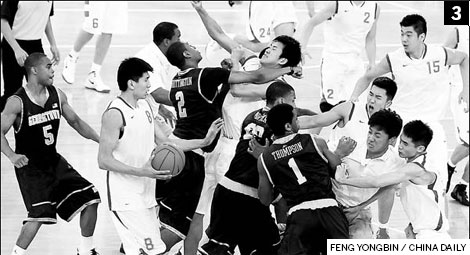 3. Brawls plague Chinese basketball
The ugly side of Chinese basketball reared its head again twice.
On Oct 20, what started as an exhibition game between the CBA's Foshan Longlions and Australia's Melbourne Tigers turned into a violent chair-throwing brawl.
That followed another fight on Aug 18, in which punches and kicks were exchanged during a friendly game between the Bayi Rockets and the NCAA's Georgetown Hoyas.
Both games ended prematurely.
Chinese basketball apologized to the Tigers and Hoyas and punished its own teams, but the country's basketball's image was badly damaged again after a series of on-court incidents in recent years.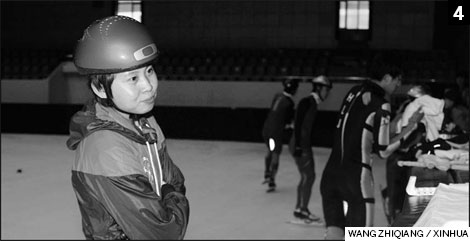 4. Championship team punished
A series of negative incidents marred the image of China's short track speed skating team, which had enjoyed a wildly successful 2010.
In June, members of the team, including Olympic champions Wang Meng and Zhou Yang, reportedly fought with security guards in Yunnan's popular tourism destination, Lijiang, where the team was celebrating the Dragon Boat Festival.
Two months later, four-time Olympic gold medalist Wang (pictured) was expelled from the national team for a drunken brawl with team manager Wang Chunlu after Wang Meng returned late to training camp following a night out.
Wang is now training with a local team in Harbin, and the sport's authority said it might take a long time for her to return to the national team.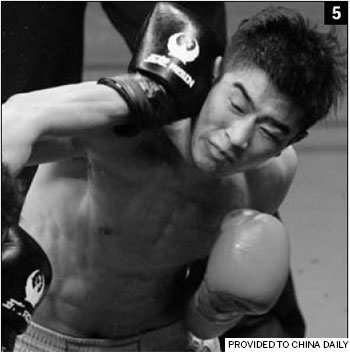 5. Famous fighter dies after coma
Famous Chinese Kungfu champion Shangguan Pengfei died on Dec 12 after being knocked out in a fight during the National Kungfu Championship on Oct 31.
He had been in a serious condition after the fight.
The events organizers' approach and attitude toward Shangguan's family and his treatment stirred dissatisfaction and fury from his family.
It also sparked controversy over such tournaments, in which fighters are not asked to wear a helmet in order to make the event more attractive and sell more tickets.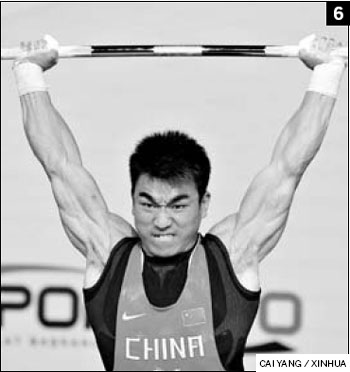 6. Liao banned for doping
Chinese weightlifter Liao Hui, who claimed the gold medal in the men's +69 kilogram event at the Beijing Olympics and broke two world records at the 2010 Turkey World Weightlifting Championship, was banned for four years by the International Weightlifting Federation (IWF) in November after failing a doping test.
The 24-year-old will be suspended until Sept 30, 2014, which means he will miss the London Olympics next year. He was also stripped of his gold medals and world records at the 2010 Worlds.
Liao claimed his innocence in an announcement on Xinhua News Agency and Chinese Central Television, and has appealed to the Court of Arbitration for Sport (CAS).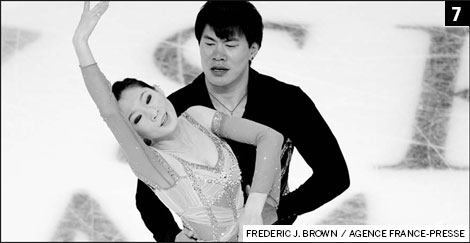 7. Skaters' ages disputed
According to a report in February, nine Chinese figure skaters may have violated age-limit rules.
The skaters include 2006 Winter Olympic silver medalists Zhang Dan and Zhang Hao (pictured), former world junior champion pair Sui Wenjing/ Han Cong, and singles skaters Geng Bingwa and Xu Binshu.
The reports found discrepancies when comparing a list of birth dates published on the website of Chinese Skating Association (CSA) against those listed on the athletes' International Skating Union (ISU) bios.
The CSA announced later the ages of Zhang Dan and Zhang Hao were correctly registered at international events and were above board, but the allegation tarnished the image of Chinese figure skating.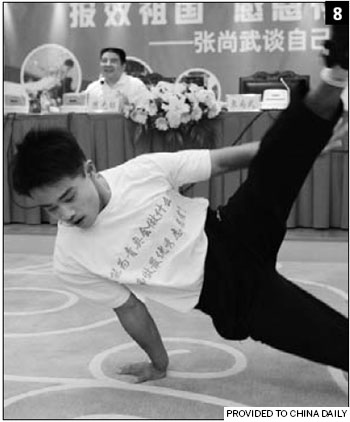 8. Controversial world champion team
Although Chinese national gymnasts were outstanding at this year's World Championships with four gold medals, five silver and three bronze, two controversial figures off the mat tainted the sport.
The first was former Chinese gymnast and Olympic hopeful Zhang Shangwu, who was found begging on the street, prompting debate over the country's treatment of athletes.
The 27-year-old Zhang (pictured) ruptured his left Achilles tendon in training in 2002 and was forced to retire in 2005 with a small pay-off. With little education and still suffering the effects of his injury, Zhang said he was forced to sell his medals for just 10 yuan, before eventually turning to crime as a thief.
After being released from prison in April he turned to begging, before being recognized by a fan while performing stunts for money.
Meanwhile Chinese gymnastics judge Shao Bin was found guilty of fraud at the 2010 Asian Games, the FIG Disciplinary Commission announced.
FIG downgraded Shao Bin's status as a judge and ordered him to pay about $8,800 in legal costs.
Shao denied the charges and said FIG lacked evidence against him.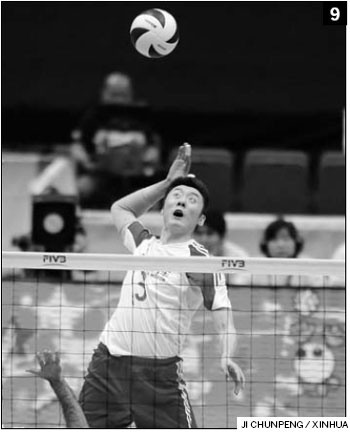 9. Rough times for men's volleyball
In sharp contrast to its female counterparts' performance, the Chinese men's volleyball team ranked 11th at the World Cup in Japan, with only one win against Iran. As an underdog, China could not rival powerhouses like Russia, Italy, Poland and the US, and also fell easily to teams like Egypt and Japan. Compared with the women's team, which has already earned a berth at the London Olympics next year after finishing third at the World Cup, the men's team has to fight with other Asian teams for a possible spot at the Olympic qualifying tournament next year.
China Daily