Six years down, eight months to go
Updated: 2011-12-13 07:41
By Guan Xiaomeng (China Daily)
| | | | | | | | | | | |
| --- | --- | --- | --- | --- | --- | --- | --- | --- | --- | --- |
|   | | Comments() | | Print | | Mail | | Large Medium  Small | 分享按钮 | 0 |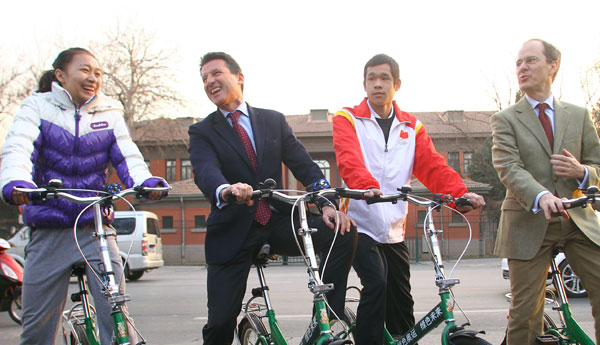 (L to R) Chinese Olympic gymnastics team champion Yang Yilin, Lord Sebastian Coe, president of the organizing committee of the London 2012 Olympic and Paralympic Games, Chinese Paralympian Lin Furong and UK Ambassador to China Sebastian Wood pose on bicycles in front of the embassy in Beijing December 11, 2011. Coe launched the "Olympic bicycles" initiative in Beijing, designed to encourage embassy staff to take a low-carbon approach to traveling around the city for official business.[Photo by Zou Hong / China Daily] Click to watch the related video
BEIJING - One of the busiest men in sports took time to visit Beijing last weekend.
He liked what he saw.
Sebastian Coe, Chairman of the London Organizing Committee for the Olympic Games (LOCOG), met some of China's Olympians as their preparations to visit his home country reach a fevered pitch.
Wandering around the training compound of the State General Administration of Sport on Saturday afternoon, the 55-year-old Olympic 1,500 meter champion in 1980 and 1984 still cut an athletic figure in a dark wool overcoat.
On Sunday, Coe attended the International Paralympic Committee (IPC) General Assembly and launched the "Olympic bicycles" at the British embassy to promote a green Olympics.
After finding a 64-photo Wall of Fame featuring Chinese world and Olympic gymnastics champions, Coa challenged head coach Huang Yubing to enlarge it in London.
"But don't take all the gymnastics golds away," he said.
He later met a group of Olympic and world champion gymnasts, including multiple world ring champion and captain Chen Yibing.
"Welcome, all of you, to London," said Coe. "We have lots of gymnastics fans in Britain, and you will be great draw there."
Coe said one of his goals is for the London Games to be athlete-centered.
"We have built the best athletes' village for you - athletes are always the most important people," he said.
A track star in his own right, Coe searched for Liu Xiang's footprint on the marble walk of fame leading to the swimming training site.
He paused at the print, calling it "the fastest foot".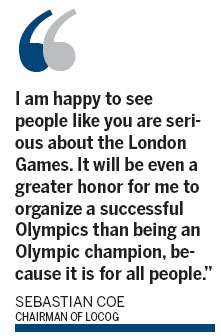 "I have met him and he is this tall", he said, raising his arm to approximate the 110m-hurdler's 1.90 meter height. "He is famous in Britain, and we look forward to watching him run."
Alongside the swimming pool, Coe waved to world champion Zhang Lin and Jiao Liuyang, who were busy training. He refused to ask the swimmers to welcome him on the deck because he did not want to disturb them.
But Zhang and Jiao, still wet, came anyway. Asked whether they have been to the newly opened London Aquatics Centre, Jiao said no, though he has seen the medals for the Games.
"I know you want the gold ones, but please, leave some for others," Coe said.
It wasn't Coe's first visit to Beijing. He recalled when he and his two sons visited the Forbidden City during the 2008 Olympics and one of the boys got blisters on his feet in a pair of new but uncomfortable shoes.
"A woman offered him a bandage and asked for nothing in return but a photo of my children and hers," Coe said. "That is also Olympics.
"Each average day during the past years for me has been busy but I am happy to see people like you are serious about the London Games. It will be even a greater honor for me to organize a successful Olympics than being an Olympic champion, because it is for all people."
Headaches like traffic and security haven't discouraged Coe.
He said it's common for host cities, and the only solution is to do the best possible job under the circumstances.
He pointed to the host's successful navigation of trying circumstances in August, when several events including the world badminton championships were going on during the London riots.
"You can see that everything went well with the test events and the IOC meeting in London when we were under some unexpected conditions," he said.
Coe said the six years since London won the bid have been hard work. So, what does he have planned for his post-Games vacation?
"I haven't thought of that. Now is now," he said.
China Daily