NBA's loss could end up being China's gain, Marbury says
Updated: 2011-11-10 07:59
By Tym Glaser (China Daily)
| | | | | | | | | | | |
| --- | --- | --- | --- | --- | --- | --- | --- | --- | --- | --- |
|   | | Comments() | | Print | | Mail | | Large Medium  Small | 分享按钮 | 0 |
Former NBA all-star and current Beijing Ducks guard says CBA is on the rise
BEIJING - Stephon Marbury says he saw the current NBA lockout coming three years ago and believes it can only benefit basketball in China and the rest of the world.
"I think it was going to be this way regardless," the 34-year-old former NBA star guard said of the growth of the game in China at the launch of the Chinese Basketball Association's (CBA) 2011-2012 league here on Wednesday.
"However, it's great that more (US) players are expanding (abroad); I don't think it should be just one league that dominates things. I think more competitions are great for basketball as more players can go overseas and that will just help broaden the game," the two-time NBA all-star guard, who played with Minnesota, New Jersey, Phoenix, New York and Boston in a 14-year career in the world's elite league, said.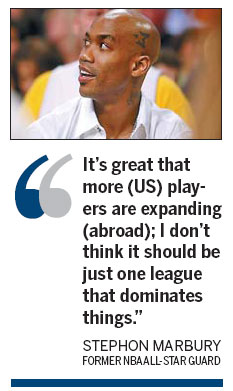 "The CBA is a growing league and I think people see it as a market for all to play in. However, it's a small window here because only two foreigners (along with a player from another Asian country) can play per side.
"The lockout just intensifies the magnitude of the league. It's a small window, and (China) being a big market there's probably only 36 players from the NBA that can play here, and with the lockout, and the way the (US) economy is, this is a severe time."
The CBA laid down the strict guideline that locked-out NBA players could only play in the league if they were willing to commit to a full season with their chosen team.
While a figure like Los Angeles super star Kobe Bryant - for even just half a dozen games - could draw massive crowds and attention to the growing league, Marbury, who will play for the Beijing Ducks this coming CBA season after stints with the Shanxi Zhongyu Brave Dragons and Foshan Dralions, agrees with the decision.
"I think it's a good rule because if you have a guy come here and play for five or six games and then leave the team, that team has to find another player and I don't think that is fair. The league is the league and no one is bigger than the league.
"Players come and go ... you have to create a mentality for the league to grow and grow."
Marbury made his NBA debut with the Timberwolves in 1996 and endured the 1998-1999 lockout, which saw that season reduced to 50 games.
"It's different now because the economy has changed," he said comparing the two labor disputes. "This game is a hobby for some of the owners (now) ... this really isn't their main source of income. Right now it's easy for them to stand back and say, 'I don't want to put money towards something that's bleeding ... so why would I want to put money into my NBA team?'
"These 30 owners are digging in together they are telling the players, 'We are the boss and we are going to dictate how things go'.
"It's not negotiating anymore, it's getting worse. What most people don't know is that the owners had this plan 10 years ago. It started with the 1999 lockout and they knew another collective bargaining agreement was going to come up and they know exactly what's going on now ... it's a business."
Asked if he felt the 2011-2012 NBA season could be salvaged, the father of three said: "We'll see in 24 hours", alluding to Wednesday's (US time)possible season-ending deadline set by NBA commissioner David Stern.
China Daily
(China Daily 11/10/2011 page24)