Taking some time to make things right
Updated: 2011-11-09 07:58
By Lei Lei (China Daily)
| | | | | | | | | | | |
| --- | --- | --- | --- | --- | --- | --- | --- | --- | --- | --- |
|   | | Comments() | | Print | | Mail | | Large Medium  Small | 分享按钮 | 0 |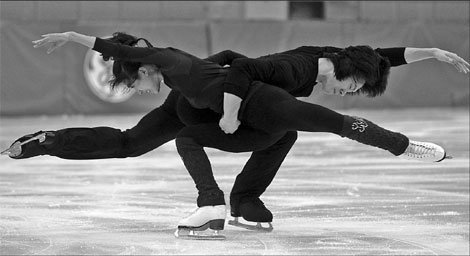 Chinese figure skaters Pang Qing (left) and Tong Jian train in Beijing last Thursday. The pair left for Canada on Sunday to work on perfecting a new program set to modern music. [Photo by Cui Meng / China Daily]
Chinese figure skaters Pang Qing and Tong Jian have significantly reduced their number of competitions this season as they concentrate on perfecting new routines, Lei Lei writes.
For veteran figure skaters Pang Qing and Tong Jian, competing is not the most important thing now; it's all about the quality of the programs they put on for the audience.
The two-time world champions and the Vancouver Winter Olympic silver medalists have reduced the number of the competitions they will take part in this season, which leaves them more time to carefully craft their new routines.
"We feel very tired after so many years of training and competitions and now we need more time to perfect our routines, but not just to make them good enough for the competitions," said Tong, who will only participate at the National Winter Games next January and the World Championships in March during the 2011-2012 season.
"We need time to adjust ourselves and to make the change," Tong told China Daily.
"Taking part in competitions all the time cost us time in analyzing new trends in figure skating."
The duo went to Canada to work with world-renowned choreographer Lori Nichol in July and decided to modify the short program it used last season, which was to the music of Nocturne in C sharp minor by Frederic Chopin, and chose the music of Scheherazade for the free skating program.
"We worked with Nichol to modify the short program last season following the new rules this year, especially for the lifts," Tong said. "The old program might not leave a deep impression on the judges, so we want to show a refreshing one to them this time."
In free skating, they want to display a new style to popular music, which has been used by many skaters, such as women's singles Olympic champion King Yu-na from South Korea and Pang and Tong's younger teammates, Zhang Dan and Zhang Hao.
"The new long program required us to be pretty and flirtatious, but the most difficult point for us is that too many skaters have performed to the music, and those programs have left deep impressions on the judges and audiences," said Pang. "Our choreography this time is different as Nichol combined the opera factor into it. It's very difficult to display on ice, but we know if our new routine can surpass the previous one that it could impress the judges and audiences. We will try to achieve that."
As one of world's top pairs, Pang and Tong, who just signed with sports marketing company Infront China, have been invited to participate in figure skating galas throughout the world in recent years. The pair, who got engaged in June, has been enlightened by artistic performances and wants to bring more of that into competitions. The team's free skating program has already benefited from the change in philosophy.
"We went to more than 30 performances this year, from which we learned a lot, such as the costumes and choice of music and how to deal with the details of performing," said Tong. "We expect to combine that into our competition routines. It will be difficult, but we will try our best."
The ISU Grand Prix series has had three stops this season. Other elite pairs, such as three-time world champions Aliona Savchenko and Robin Szolkowy from Germany and Yuko Kavaguti and Alexander Smirnov of Russia, have already shown their new routines, which feature new lifts and throws.
However, the Chinese pair is not worried that its absence from those events will cost it in the judges' minds and is confident of performing well at the World Championships at the end of the season.
"We are still competitive with the top pairs in the world," said Tong. "We have noticed their changes this season. As for our own routines, we are confident of challenging them if we finish clean routines in the competitions."
The National Winter Games will provide a fine warm-up for them before the worlds.
"Someone said the national competition has in recent years been more like a junior event, as most of the national team skaters have skipped it," said Tong. "We want to bring something new to it this time and help lift its level and attract more fans."
All the efforts are aimed at the Winter Olympic Games in Sochi, Russia, in 2014.
"We want to improve our performances step by step toward the Olympic Games," said Tong. "We thought about trying a quadruple throw or quadruple twist this season, but it's not the right time. We may use it at the 2014 Games, although we haven't decided which one to choose. It will depend on our practices."
The pair is now in Canada with Nichol again to perfect the two routines.
It will be showtime for them a month later.
"I hope when we come back from Canada next month, we will have two refined routines and we will be ready for the competition," Tong said.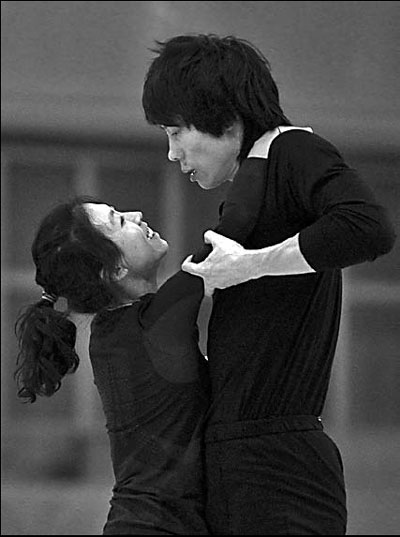 Pang Qing (left) and Tong Jian expect to show high-level routines to audience this season. [Photo by Cui Meng / China Daily]