Wheldon mourned; search for answers begins
Updated: 2011-10-18 11:34
(Agencies)
| | | | | | | | | | | |
| --- | --- | --- | --- | --- | --- | --- | --- | --- | --- | --- |
|   | | Comments() | | Print | | Mail | | Large Medium  Small | 分享按钮 | 0 |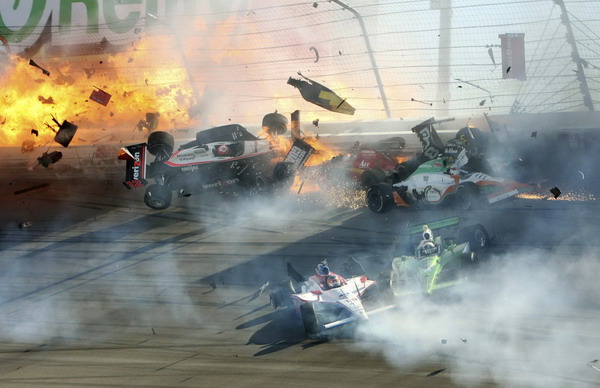 The race car of driver Will Power (L) hits the wall along with drivers J.R. Hildebrand (C) and Charlie Kimball (R) as flames from British driver Dan Wheldon's car burst (at far left) during the IZOD IndyCar World Championship race at the Las Vegas Motor Speedway in Las Vegas, Nevada Oct 16, 2011. [Photo/Agencies] 
The motor racing world was left reeling on Monday from the death of time-two Indianapolis 500 champion Dan Wheldon while the search for answers into what triggered the horrific crash began.
Wheldon's death in the IndyCar finale at Las Vegas Speedway on Sunday left fans stunned and plunged series officials into crisis management mode as the season-ending celebration turned to disaster.
In the immediate aftermath of the tragedy, the finger pointing had already begun as drivers questioned the wisdom of running the race on a lightning quick, high-banked 1-1/2 mile oval that had not staged an IndyCar event for 11 years.
Others expressed concern over the decision to run a large 34-car field sprinkled with part-time drivers unprepared for the extreme speeds and a 200 lap wheel-to-wheel dogfight.
Shaken IndyCar officials had no immediate response to the concerns, instead keeping the focus on Wheldon as condolences continued to pour in from around the sporting world.
The shock of the Briton's death has cut across all sporting boundaries and generations as past driving greats and casual fans mourned the 33-year-old father of two.
English soccer great Wayne Rooney and LeBron James of the National Basketball Association were among those to express their grief via Twitter as did Formula One champions Lewis Hamilton and Emerson Fittipaldi.
"I have seen many fine men/racers leave us prematurely over my lifetime," said Fittipaldi, a Formula One driving champion and Indy 500 winner who drove during one of motor sport's most dangerous eras. "It is an unfortunate part of our sport."
IndyCar's initial handling of the tragedy has been respectful and well-managed, says Ernest DelBuono, a crisis communications counselor for Fortune 500 companies and government agencies.
But as the days go on, he warns that officials must be prepared to respond to hard questions about safety and what could have been done to prevent the carnage that left Wheldon dead and sent two other drivers to the hospital.
"They (IndyCar) need to continue over the next several days to celebrate a championship driver, his accomplishments and sympathy for his family," DelBuono, vice-president of Levick Strategic Communications told Reuters. "And then they need to be thinking strategically.
"They need to be talking safety. They are going to have to discuss safety concerns."
Ironically, Wheldon had spent much of the year testing IndyCar's "Car of the Future", a car with enhanced safety features that is to be introduced next season.
Add spice
In an attempt to drum up interest in the season finale and highlight the skill of IndyCar drivers, series CEO Randy Bernard had offered a $5 million bonus to any qualified driver believing he could get into car and beat the series' best.
Bernard had hoped to attract a few big-name former Formula One or NASCAR drivers to add some spice to the season-ender but found no takers.
"I don't think Formula One guys have an appetite for ovals," Bernard told Reuters in an earlier interview. "All I've heard is that they fear them, that's what separates our drivers and these are the points we need to get out there.
"IndyCar isn't for everyone, it takes someone who has a lot of guts to get behind a wheel and go 230 mph around an oval."
Without a full-time ride this season, Wheldon was the only one to accept the offer but the Briton was far from an IndyCar novice having twice won the Indy 500, including the 100th anniversary race in May and the Series driver's crown in 2005.
Not everyone in the field had the benefit of Wheldon's experience and with 34 tightly-bunched cars going flat out it added up to what many drivers described as a recipe for disaster.
In the aftermath of the deadly crash, some drivers, like NASCAR champion Jimmie Johnson have called for an end to racing open-wheel IndyCars on ovals.
"Within five laps people started to do crazy stuff," said Briton Dario Franchitti. "I wanted no part of it."
Motor racing fans like drivers, accept their sport comes with high risks but space age technology and new safety advances, in the car and at racetracks, have made crashes more survivable.
The last driver to die in IndyCar before Wheldon was Paul Dana, who was killed during the warmup for the 2006 season-opener in Miami.
Despite all the advances, Wheldon's  death provided a chilling reminder of just how dangerous the sport remains.
"Days like today is it worth it? Absolutely not," said Franchitti, who claimed the drivers crown for a third straight year when the finale was cancelled. "But we're race car drivers, it's what we do.
"We push each other, we push ourselves, we push our team to win these races and championships. It's what drives us forward. It's what we love.
"Then you see that happen to Dan and you know what, it doesn't matter."