Commuters fear strain on trains
Updated: 2011-08-17 07:56
(China Daily)
| | | | | | | | | | | |
| --- | --- | --- | --- | --- | --- | --- | --- | --- | --- | --- |
|   | | Comments() | | Print | | Mail | | Large Medium  Small | 分享按钮 | 0 |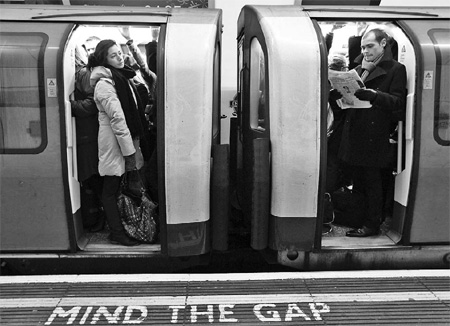 Travelers try to find a space on a packed rush hour tube train in central London, in this November 29, 2010, file photo. London is experienced at staging major events, such as April's royal wedding, but the 2012 Olympics stretch over two weeks and sports fans will be jostling for seats on trains and buses with art lovers attending the Cultural Olympiad, as well as business people and tourists. Andrew Winning / Reuters

Despite official guarantees, London's ability to cope with Olympic traffic remains in doubt
Faulty signals and crowded carriages are just part of the daily grind for London commuter Nick Maggs, even on a good day; this time next year, things could only get worse, he fears. Maggs, who travels by train and the underground to his job in the financial district, despairs for sports fans hoping to get to events at the 2012 Summer Olympics on London's busy transport network.
"The system is going to be overloaded," he said. "To chuck that number of people on means it can only go wrong. On a normal day, you have signalling failure and congestion."
The English capital's transport system is already near capacity with 24 million journeys a day, and Maggs is not alone in wondering how it will cope with a possible extra 3 million journeys on peak days during the Games in July and August next year.
Transport has been a constant worry for the International Olympic Committee and, in April, a London Assembly report said "getting transport arrangements right remains one of the biggest risks to the smooth running of the 2012 Games."
Olympic organizers hope Londoners taking summer holidays, working from home or changing their working hours, will combine with a drop in the number of regular tourists to produce a 30-per-cent fall in transport use during peak times, leaving room for Games traffic.
Some Londoners, questioned on the city's streets, were skeptical about such figures.
"Wouldn't it be wonderful [if there was a 30-per-cent reduction], but I can't see it happening," said James, a 41-year-old pub landlord who preferred not to give his surname.
"I can't see how 30 per cent of people will change their patterns of travel. I'm not going to change mine."
Chris Doulou, 38, a self-employed plumbing and heating engineer, said: "I will not be able to change my hours, I will have to struggle to get to work."
Others, though, are already thinking about ways to avoid the congestion.
"I will probably work from home, which is not a bad thing," said a 39-year-old office worker who did not want to be named. "I think the transport will be OK."
Vicki Plimmer, 30, a clerk, said: "I live in southwest London so I should be all right. I have got lots of ways to come in to work."
London is experienced at staging major events, such as April's royal wedding, but the Olympics stretch for more than two weeks and sports fans will be jostling for seats on trains and buses with art lovers attending the Cultural Olympiad, as well as business people and tourists.
Seb Coe, chairman of London's Olympic organizing committee (LOCOG), warned last December that failure to handle the extra load could result in London spending the next 50 years trying to live it down, being bracketed with the much-maligned 1996 Atlanta Games.
The London Assembly report said people could face delays of more than an hour if travel patterns remained unchanged on some key lines serving the Olympic Park in Stratford.
Strikes on the London Underground in recent years have raised fears of another stoppage during the Games. The National Union of Rail, Maritime and Transport Workers told Reuters it did not plan any industrial action during the July 27 to Aug 12 Games but talks over a pay deal are ongoing.
Billions of pounds have recently been invested in public transport, including upgrades to the Docklands Light Railway which serves the Olympic Park and a refit of Stratford station, boosting capacity and reliability and providing a rapid link to St. Pancras International in central London.
"We're very confident that transport will be off the front pages of newspapers during the Games," said Mark Evers, director of Games transport for Transport for London (TfL).
"We have put in the plans and the infrastructure to make sure that we can make it work."
Organizers are also pushing for spectators to travel by bicycle or foot and to take river boat services, to help fulfill their pledge of delivering a "public transport Games".
However, only about 5 per cent are expected to use pedal power or walk, while river boats are limited in number.
"I think TfL and the Olympic committee are putting in efforts, I am just holding my breath and waiting to see whether it is enough effort and pinpointed in the right areas," Karen Anderton of the University of Oxford's transport studies unit said.
Games planners are also keen to get motorists off the road. About 11 million journeys a day are made in London, making the city's streets the most congested in Europe.
Park-and-ride schemes will be put in place for spectators, encouraging them to leave their vehicles on the outskirts of London, and the Olympic Park will have no public car parking. Businesses will be encouraged to change their delivery times to keep lorries off the streets by day.
More than 80,000 athletes, officials, dignitaries, sponsors and the media will be driven to venues along 90km of dedicated "Games Lanes," and any motorist straying into them faces a fine of 200 pounds ($310).
London has a tough act to follow - Beijing built multilane highways to get people to and from venues in 2008. The roads around London are narrow by comparison and prone to long delays if cars break down or accidents happen.
Authorities will be stress-testing the transport system this summer, something that was absent in Atlanta, where travel to the venues became a major headache.
"You can't guarantee everything is going to be perfect but there's a danger of taking an unduly negative line as well," said Peter White, professor of public transport systems at the University of Westminster.
Reuters
(China Daily 08/17/2011 page23)
Hot Topics
Rainstorms cause flooding in Gannan Tibet autonomous prefecture, Gansu province, on August 15, 2011.