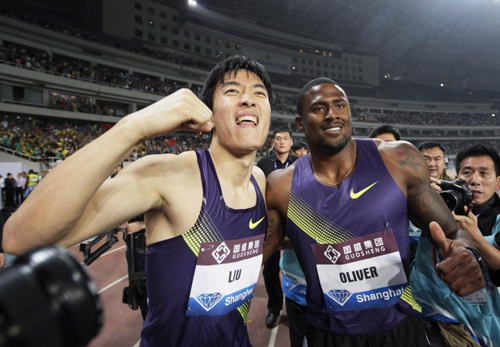 David Oliver (R) of the US celebrates winning the men's 110m Hurdles with China's Liu Xiang at the IAAF Diamond League athletics in Shanghai May 23, 2010. Oliver took the first place ahead of China's Shi Dongpeng and Liu Xiang ,who took third. [Photo/Agencies]
SHANGHAI - China's national hero Liu Xiang said that he is unsure about the 2012 Olympic Games after suffering another defeat at home at the IAAF Diamond League here on Sunday.
The 2004 Athens Olympic champion and 2007 world titlist was beaten by American David Oliver and compatriot Shi Dongpeng in a much-anticipated race at the Shanghai Stadium.
Related readings:


 Bolt clocks 19.76secs in Shanghai 200m; Hurdler Liu finishes third


 Hometown hero Liu still battling Achilles injury


 Liu skips Osaka, focus on Robles in Shanghai


 Liu set to miss 'lucky' race in Japan
Liu finished a disappointing third place in 13.40 seconds, behind the world indoor champion Oliver who won the race in a season best of 12.99 and Shi in 13.39.
Local fans have expected the former world record holder to regain world-class form after finishing seventh in his international return at the world indoor championships in March. He has been pinned on high hopes after the shock withdrawal from the Beijing Olympics in 2008 because of an Achilles tendon injury, which disappointed millions of Chinese fans.
Ryan Braithwaite of Barbados, the surprise winner in Berlin last year, continued his disappointing start to the season, clattering a succession of hurdles and failing to complete the race.
Liu started well but faded quickly. Oliver finished nearly five meters clear of second placed Shi as Liu completed the podium.
"I think it is a good run tonight," Liu said after the race. "I feel great even though I lost to my teammate Shi Dongpeng for the first time in my career. Shi registered a season best."
Liu said he had a fresh injury to his feet and failed to have had normal training.
"I have no reason to blame," Liu said. "I could not have intensive training. As a result I could not register good result in competition."
Liu, who jumped to fame by winning the gold medal at the 2004 Athens Olympic Games, is not confident of his future at the London Olympics.
"The London Olympics is too far for me," he said. "I must start from the very beginning. I am not sure about myself now."
Usain Bolt returned to China for the first time since his triple-gold Olympic feat, to launch his 200-meter season with a convincing win, claiming the title in a meet record in 19.76 seconds.
American duo Angelo Taylor and Ryan Bailey finished second and third with 20.34 and 20.43 seconds respectively.