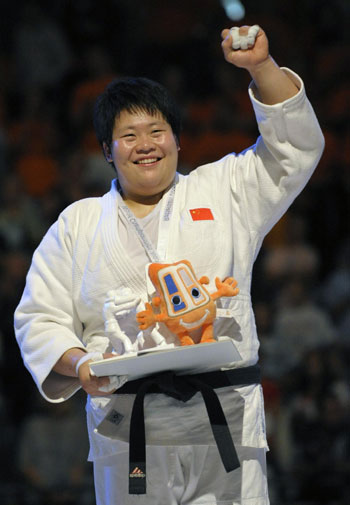 Tong Wen 
BEIJING - China's star judoka Tong Wen, who claimed the Beijing Olympics women's 78kg title and three world championships gold medals in a row, has been banned for two years for doping.
The decision was made by the International Judo Federation at its council meeting in Tunis on Friday evening. Tong's world championships trophy has been stripped of but her Olympic gold medal remains untouched.
Ma Wenguang, the director of China's weightlifting, wrestling and judo administration center, told Xinhua on Saturday that he got the notice and the administration center would seriously deal with it.
Tong, 27, failed the doping test last August at the world championships in the Netherlands.
"The banned substance Tong took is clebruterol which has the function of blood vessel dilatation in medical treatment. But clebruterol overdose can boost muscle, like an anabolic steriod," said Zhao Jian, deputy director of China Anti-Doping Agency.
"Clebruterol is not an advanced anabolic steriod and it is very easy to test it out. We had tested Tong last year before she went to the Netherlands but found nothing at that moment," Zhao added.
The same steriod had also tumbled Chinese male star swimmer Ouyang Kunpeng and American female swimmer Jessica Hardy, a former 100 meters breaststroke world record holder. Almost all the victims attributed the doping offence to comtaminated food supplement.