BEIJING - Stephon Marbury confirmed his status as the CBA's top player with an MVP-winning 30-point and 10-assist effort in the league's All-Star game over the weekend.
However, that gala performance also marked his last appearance in the CBA this season, and probably forever, as his Shanxi Zhongyu Kylins failed to make the playoffs.
Related readings:


 Dongguan spoil Marbury's CBA debut with 102-101 win


 NBA star Stephon Marbury to join Chinese club


 Marbury expected to boost struggling Shanxi
"I'm still talking to them (Shanxi) right now. I haven't decided (about coming back) and I don't know when I will decide," Marbury told Sina.com, a Chinese portal site, before the All-Star weekend.
"I might come back to play in the CBA or play in the NBA it depends on the situation."
Marbury joined the NBA in 1996 and the 1.88m point guard was an All-Star in 2001 and 2003. He was also a member of the US team at the 2004 Athens Games, where it finished third.
After the last NBA season, the Boston Celtics offered the then 32-year-old the veteran's minimum. He did not take it and later announced he would take a year off from basketball to attend to his business interests.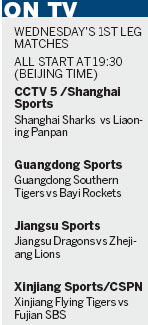 He joined Shanxi in January and averaged 22.8 points and 9.6 assists in 15 games, which broke the 15-year-old CBA's assists record.
Although his efforts were not enough to lead Shanxi to the playoffs, it helped boost the veteran's confidence.
"You know, it's not hard for me to play in the NBA as well," Marbury said when asked whether he felt it was easier for him to perform in the CBA. "I've averaged about 20 points and eight assists through my whole career. That's what I keep doing. That's what I'm always able to do. It's kind of easy for me to do that."
Marbury still hopes to play in the NBA one day. But he hinted the fan adoration, and the respect he enjoys from CBA players and coaches, would be hard to give up.
"They respect me because of what I do on the court," he said.
China Daily / AFP