Special Coverage: 2010 Laureus World Sports Awards
ABU DHABI - Jamaican sprinter Usain Bolt and US tennis player Serena Williams won the Laureus sportsman and sportswoman of the year respectively on Wednesday.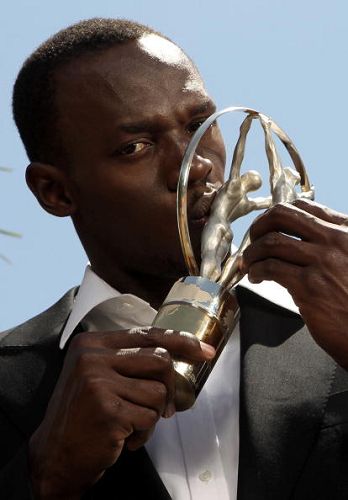 Jamaican sprinter Usain Bolt kisses his "sportsman of the year" award at the Laureus World Sports Awards ceremony in Abu Dhabi March 10, 2010.
Bolt, who claimed the Laureus award for the second successive year, won three gold medals at the 2009 world athletics championships, setting world records in both the 100 meters and 200 meters.
Williams, who had won the award in 2003, was winner of the Australian Open and Wimbledon.
Belgian tennis player Kim Clijsters earned the award for the comeback of the year. Clijsters won the U.S. Open last year after returning to tennis following a break of almost two years.
The world team award went to Formula One racing team Brawn GP which won the 2009 championships with Jenson Button, who was honoured with for breakthrough of the year.
The award for sportsperson of the year with a disability went to South African Natalie du Toit, the first amputee ever to qualify for the Olympics, while Australian Stephanie Gilmore, three-time surfing world champion, won the award for action sportsperson of the year.
Usain Bolt (Jamaica) Athletics, 23
Usain Bolt followed his wonderful Olympic year with an equally spectacular 2009. At the World Championships in Berlin, Bolt won 100 metres, 200 metres and 4x100 metres relay gold medals, just as he had done in Beijing 12 months earlier. In the 100 metres, Bolt improved his world record with a time of 9.58secs, taking over a tenth of a second off the previous record, the biggest ever margin of improvement since the introduction of electronic timing. He also won the 200 metres gold medal in a new world record time of 19.19secs, breaking his own record by 0.11secs. He was also a member of the Jamaican team which won the 4x100 metres relay gold medal. Bolt won the 2009 Laureus World Sportsman of the Year Award after his performance in Beijing.
Serena Williams (United States) Tennis, 28
American tennis star Serena Williams won both the Australian Open and Wimbledon in 2009 to take her total of career Grand Slam singles victories to 11, putting her seventh on the all-time list. She regained the World No 1 ranking for the fifth time in her career in November.