MELBOURNE - Rafa Nadal limped out of the Australian Open on Tuesday, his title defence shattered by a recurring knee problem and a devastating display by Andy Murray.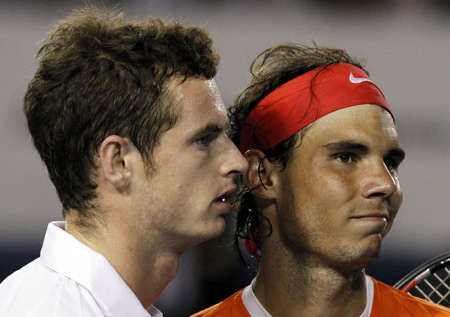 Andy Murray of Britain and Spain's Rafael Nadal (R) greet each other after Nadal retired from their quarter-final match at the Australian Open tennis tournament in Melbourne January 26, 2010.  [Photo/Agencies]
Nadal quit when trailing Murray 6-3 7-6 3-0 but the match was as good as over with the Scotsman deservedly on his way to the semi-finals for the first time.
"When the big moments came in the match, I thought I dictated what happened on the court," Murray said.
"Obviously, I didn't know when he hurt his knee...but from my side, I played really well and deserved to be up when the match was stopped."
It has been 74 years since a British man won a grand slam title but the wait could soon be over if Murray can maintain his brilliant form for two more matches.
The 22-year-old has not dropped a set in Melbourne and will next face Croatia's Marin Cilic, who wore down seventh seed Andy Roddick 7-6 6-3 3-6 2-6 6-3 but is nearing exhaustion after spending more than 18 hours on court to get this far.
Justine Henin's dream of winning the women's championship also edged closer to reality as did that of Zheng Jie, the first Chinese to make the semis in Australia.
Henin booked her place in the last four with a 7-6 7-5 win over Russia's Nadia Petrova to set up a showdown with Zheng, who defeated Russia's Maria Kirilenko 6-1 6-3.
Nadal's exit was another sorry chapter for the Spanish second seed whose brilliant career has been blighted by knee injuries over the past year.
There must be doubts as to whether the 23-year-old can scale the heights he did 12 months ago when he held the Australian, French and Wimbledon titles and was ranked number one in the world.
"Don't start guys with these questions right now," Nadal told a news conference. "I think it is not the right moment.
"It is impossible for me to know after half an hour."
TORMENTED KIRILENKO
Former world number one Henin is playing only her second tournament since coming out of an 18-month retirement and her next opponent represents the changing face of women's tennis.
Zheng raised hopes of a first Chinese grand slam singles champion after she tormented Kirilenko with her powerful groundstrokes and speed around the court.
"I feel a bit calmer than the last time I made a semi-final," said Zheng. "Now, I feel like whoever makes the last four has a chance of winning it."
Zheng is one of two Chinese left in the women's draw. Li Na also made the quarter-finals and plays Venus Williams on Wednesday, raising the possibility of an all-Chinese final.
Defeating Henin will be tough, however, with the Belgian seven-times grand slam champion growing in confidence.
"I was curious about what was going to happen," she said. "I knew it was going to be hard. Every match was a goal.
"Now I can dream of being in the final of this grand slam, of course, but it's still a long way."
Cilic became the first Croatian to reach the semi-finals at Melbourne Park when he summoned up the energy to fight off American Roddick's comeback from two sets down.
Cilic had been pushed to five sets in two of his previous three matches, including his fourth-round win over U.S. Open champion Juan Martin del Potro, and now faces Murray.
"Every grand slam is special and every grand slam is important to win," Nadal said. "For Andy, I think he deserves to win his first grand slam and he's gonna do it."