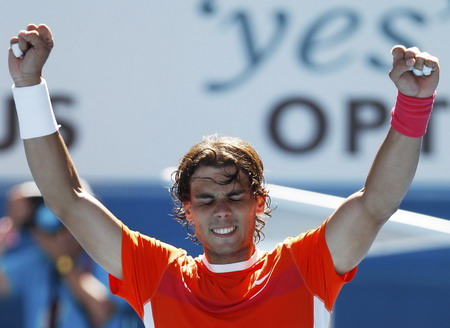 Spain's Rafael Nadal reacts after defeating Ivo Karlovic of Croatia at the Australian Open tennis tournament in Melbourne January 24, 2010. [Agencies]
MELBOURNE, Australia: Rafael Nadal and Andy Murray held off two of the tallest men and biggest servers in tennis on Sunday to set up a quarterfinal meeting at the Australian Open.
Defending champion Nadal had a 6-4, 4-6, 6-4, 6-4 win over 6-foot-10 (2.08-meters) Ivo Karlovic of Croatia, the tallest man on the tour.
In the previous match on Rod Laver Arena, No. 5 Murray overcame 6-foot-9 (2.06-meter) American John Isner 7-6 (4), 6-3, 6-2 to reach the quarterfinals in Australia for the first time. The 22-year-old Scot hasn't dropped a set in four matches.
Over on Hisense Arena, Nadia Petrova advanced with another upset win, beating third-ranked Svetlana Kuznetsova 6-3, 3-6, 6-1 to reach the quarters.
In the other section of Petrova's half of the draw, Zheng Jie set another national mark by becoming the first Chinese player to reach the quarterfinals at Melbourne Park with a 7-6 (6), 6-4 victory over Alona Bondarenko.
Nadal, who beat Roger Federer in the final here last year to capture his first major on hard courts after four titles at the French and one at Wimbledon, said the strategy against Karlovic was simply not to blink.
Related readings:


 Zheng first into Australian Open quarter-finals


 Clijsters loses badly at Australian Open


 Safina advances, Jankovic out of Australian Open


 Interesting faces at Australian Open


 Djokovic, Davydenko into 3rd round; Ivanovic out
"Just be focused all the time, move the legs, because you going to have a lot of points only with one shot," said Nadal, who was already looking ahead to a different style of match against Murray.
"Being the quarterfinals is a very good news for me ... I'm going to have a very difficult match against Andy," Nadal said. "It's completely different. He's one of the more talented players on the tour. He can play aggressive, play offensive.
"I want to play my game. ... If not maybe I will have a good flight home."
Murray lost the US Open final to Federer in 2008, his only trip to a Grand Slam championship match, and knows he'll probably have to beat both Nadal and Federer to claim his first major here.
He rated Isner's serve among the best in the game, so he was delighted to wear down the American after a crucial service break in the eighth game of the second set. He fended off break-point chances in the next game to serve out the set.
"It's tough. I had my coach serving at me from the service line this morning to try to get used to it," Murray said. "But once you get out there it's kind of tricky."
Murray broke serve again in the seventh game of the third set when Isner netted a forehand and then smashed his racket into the court in disgust.
"It's been good. I moved really well since the start of the tournament," Murray said. "I didn't drop a set yet ... not too much to complain about."
The loss was Isner's first of the year, which started with his first career ATP title at Auckland.
Kuznetsova was only playing her second tournament of the year and was coming off a late finish to her third-round win, wrapping it up at almost 2 a.m. Saturday after being four points from defeat in a match that started late Friday.
Kuznetsova committed 52 unforced errors compared to 22 winners and had her serve broken three times in the deciding set after rallying in the second to level the all-Russian match. But she refused to blame the schedule for her defeat.
No. 19 Petrova had a stunning 6-0, 6-1 win over US Open champion Kim Clijsters in the third round and has now equaled her best run at Melbourne Park. Her best run at a Grand Slam was to the French Open semifinals twice.
Petrova will meet the winner of the all-Belgian match later Sunday between former No. 1 Justine Henin and Yanina Wickmayer, who reached the semifinals at the last US Open. n    "You have to play well if you beat Kim 6-Love, 6-1," Kuznetsova said of Petrova. "Sure, Kim was not at her best level to lose like that. It's not only Nadia who played good.
"But definitely (Petrova) is playing at her best level that I seen her lately. And my level was lower than I have to play."
Zheng had already matched her own previous best run at Melbourne Park by reaching the fourth round, but is still a win away from equaling her best performance at a Grand Slam.
The 26-year-old Zheng made a stunning charge to the Wimbledon semifinals in 2008, becoming only the second wild-card entry and first Chinese player to reach the semis at a major.
"I think Australia is lucky for me because I win the first Grand Slam doubles title in Australia," said Zheng, who won the Australian Open and Wimbledon doubles titles in 2006 with Yan Zi. "So I'm so happy I'm in the quarterfinal of Australia also."
She and No. 16 Li Na both reached the fourth round here, the first time two Chinese players have reached that stage at the same Grand Slam tournament. With one on each half of the draw, Zheng said they can both go further.
"But I think we can go the far way," she said. "I hope we can be in the semifinal for both Chinese player, yet."
Bondarenko, seeded No. 31, had been on an eight-match winning streak after a title run at Hobart last week, which included a quarterfinal win over Zheng.
US Open champion Juan Martin del Potro was in action later Sunday against No. 14 Marin Cilic, and No. 7 Andy Roddick faced No. 11 Fernando Gonzalez of Chile.