China's elite women's tennis players rose steadily on the international stage in 2009, their first year outside the state-support system, thanks to the ground-breaking move initiated by the Chinese Tennis Association (CTA).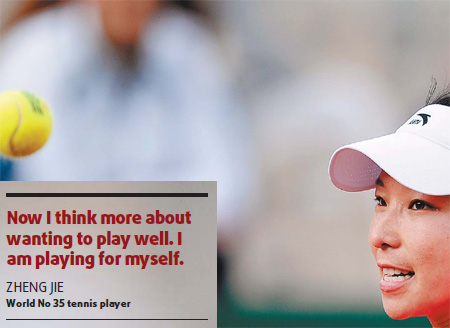 However, their success does not necessarily mean others will be allowed to follow that path.
Related readings:


 Zheng wins Chinese derby at Australian Open


 Li, Zheng lead the Chinese challenge


 Zheng beats Peng in all-Chinese 2nd-rounder


 Zheng: China top 10 tennis player matter of time
"It has only been a year since we let the players become self-managed, so it's too early to judge the impact," said Gao Shenyang, CTA vice-president.
In December 2008, the nation's top four women's players, Li Na, Zheng Jie (pictured), Peng Shuai and Yan Zi, became the first-ever Chinese athletes to be granted unprecedented freedom regarding having their own schedules, coaches and back-up teams. That also meant they did not have to hand over a significant portion of their prizemoney to the CTA but, at the same time, were no longer supported by China's training system.
Although widely welcomed by the players, the move, dubbed "flying away", initially raised doubts abut whether the players would survive on the WTA tour.

However, the foursome slammed that skepticism with shining performances and Li was the brightest star.
The 27-year-old from Wuhan finished in the top 20 for the first time last year and set an equal-Chinese record of No 15 in the world rankings on Oct 26. She made it to the finals of the WTA tour tournaments in Monterrey and Birmingham and was a semifinalist at the Pan Pacific Open in Tokyo.
What impressed fans most was her consistent performances at the Grand Slam events. After missing the 2009 Australian Open due to a right knee injury, she reached the fourth round at the French Open and then the third round of Wimbledon. She made her second quarterfinal appearance in a Slam event at the US Open - following Wimbledon 2006, losing there to eventual champion Kim Clijsters.
Li was not alone. Zheng, one year her junior, finished in the top 40 for the fourth consecutive year. She also became the second Chinese player to crack the top 20 on Feb 2 and then set a new benchmark of No 15 on May 18, bettering Li's previous record of 16.
Her season was highlighted by a victory over then world No 1 Dinara Safina of Russia in Los Angeles. It was the second time she had beaten a world No 1; following her magical run at Wimbledon in 2008 where she overpowered Ana Ivanovic of Serbia en route to semifinals.
Even Peng, who was viewed as an underachiever, had a memorable 2009 season. On home soil, she upset former world No 1 Jelena Jankovic and Maria Sharapova en route to the quarterfinals of October's China Open.
However, Yan Zi slumped out the world top 100 and officials have cited that as a bad example of the "flying away" move.
"It shows leaving the state-support system is not suitable for everyone," said Sun Jinfang, China's tennis chief.
Sun even believes Zheng, who suffered a slight slump to 35 in the rankings at the end of last year, would be better off back in the national system.
"I think Zheng was in decline. She is a less talented but hardworking player. The state-support system works better for her."
As for the players, they have moved forward and do not want to go back.
"I love they way it is right now," Li said, and her point was unanimously agreed to by the other three, including Yan.
Zheng said they faced more difficulties now but believed they were better motivated.
"Now I think more about wanting to play well. I am playing for myself," she said.
"My obligation is to try my best to get good results. As to whether I am suitable for self-management, I am not sure what is the standard we judge by, ranking or prizemoney?"
What appears to have troubled the Chinese officials most about the move is the fact that those four players did not appear to put the same effort into their performances when they came back for national competitions. Li created a stir when she withdrew from her matches at China's all-important National Games in October. That angered Cai Zhenhua, deputy head of China's State General Administration for Sports.
"I don't think the 'fly away'move should be popularized," Cai said.
Cai's comments may have shut the door on more young Chinese players leaving the system.
Sun said: "I will only allow them (young players) to 'fly away' if they break into the world top 50."