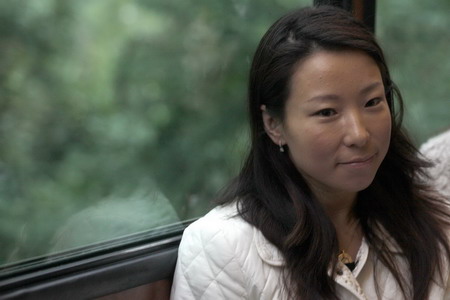 Zheng Jie of China visits the Peak in a tram during a promotional event for the upcoming Tennis Classic in Hong Kong January 5, 2010. The tournament will be played from January 6 to 9. [Agencies]

HONG KONG: Two-time Grand Slam doubles winner Zheng Jie says it's a matter of time before China produces a top-10 singles player and predicts the next generation of her compatriots to surpass her results.
Zheng, who partnered Yan Zi to win both the Australian Open the Wimbledon titles in 2006 for China's first Grand Slam titles, said both public interest in tennis and government support is on the rise in China, fostering an ideal breeding ground for future talent.
"It's increased significantly from four or five years ago. Even when it comes to media interest, corporate sponsors - in every aspect, there is a deeper interest and understanding in tennis," Zheng said Tuesday at a press conference in Hong Kong, where she is competing in an exhibition tournament ahead of this month's Australian Open.
As a result, it's easier for younger players to compete abroad and hone their talent, the 26-year-old said.
Related readings:


 Zheng Jie happy to be out of China's state system


 Zheng Jie to work on her serve with new coach


 Zheng Jie ousted after China Open first round


 Zheng Jie upsets world No 1 in LA
"They enjoy very good conditions ... I believe if they take their chances, they can surpass our generation," she said.
Zheng said one of China's most promising young talents is Zhang Shuai, who upset then world No. 1 Dinara Safina in the second round of the China Open in October.
Zheng reached the Wimbledon singles' semifinals in 2008, upsetting then-top-ranked Ana Ivanovic on the way and achieved a career-high singles ranking of No. 15 last year, although her ranking has since dropped to 35.
Zheng's compatriot Li Na is currently No. 15, but no Chinese player has ever broken into the top 10 or won a major singles title.
"There needs to be a process. After all, the development of tennis in China didn't start as early as it did in foreign countries," Zheng said. "But I think people can see the improvement in our ranking in the last few years. They can see more Chinese players active on the tennis scene. So I think there will be a top 10 player from China. It's a matter of sooner or later. But it will take some time."
Zheng said top 10 players are still physically stronger and have stronger serves than their Chinese counterparts - so she herself beefed up her serve during winter training by reworking her service motion.
She said she will play less with her regular doubles partner Yan this year because Yan wants to improve her singles ranking.