Education opportunities for budding sports stars is giving more athletes the skills to survive after retirement...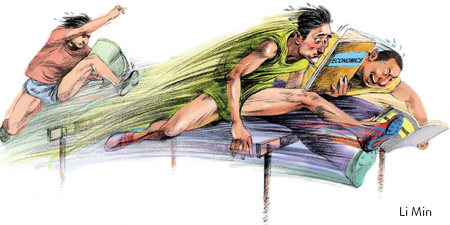 After winning silver in the 100m sprint at the National Games five years ago, underdog turned favorite Hu Kai was understandably distraught when he could only finish eighth in the competition last year in Shandong.
But as painful as the defeat was, it had little impact on the marathon he is well on his way to finishing at Tsinghua University.
"Of course I cared about my performance, but running is only something I love not something I must live by," said the 27-year-old, who is more than half way through his master's degree in Beijing. "I'm still uncertain whether to pursue a PhD or to find a job after graduation. Either way, with a good education background I don't need to worry about my future."
Hu is one of the beneficiaries of a sea change in thinking in China as more budding athletes turn to university sports programs rather than arcane athletic academies that provide young minds with little education or hope of finding a job once their career is over.
Unlike in the United States and some other nations where colleges have long been major training grounds for athletes, Chinese sportsmen and women often grow up in special schools where academic skills are very much secondary to physical training.
And despite the success of former gymnast Li Ning, who is now a multi-millionaire thanks to his popular sportswear business, the majority of athletes produced by China's traditional training system struggle to make a living after retirement.
Up to 40 percent of the 4,000 to 6,000 who retire from professional sport every year in China have problems finding a new career, according to a 2008 survey by the State General Administration of Sport.
"In the past, retired athletes were given jobs in State-owned companies or government organizations, but such opportunities are rapidly disappearing," said Zhong Bingshu, vice-principal of Beijing Sports University. "Even college graduates find it difficult to get jobs, let alone retired athletes who know nothing except how to run or play ball games."
His comments were supported by figures released by the Ministry of Education last year that showed a quarter of all graduates had failed to find work as of Sept 1, 2009.
Ai Dongmei is arguably one of the biggest victims of the country's traditional academy system.
One of China's most successful long-distance runners - in 1999 she won international marathons in Beijing and Dalian, as well as in Chiba, Japan - Ai hung up her running shoes in 2003. But she struggled to find work and within just four years she had sold all 16 gold medals she won during her career for just 1,000 yuan ($140) each to help feed her family.
"It's really hard to find a job without much knowledge. Nobody wants to hire us," said Ai, 32, who has a 1-year-old daughter and sold clothes on the streets of Beijing's Tongzhou district. "Now I realize education is vital to everyone. Athletes are no exception."
Ai was 10 when she started full-time athletic training at a sports school and said she has done almost no academic study since then.
While her post-career struggle may be an extreme example, there have been growing calls within China to move away from State-sponsored sports academies and towards a system that allows universities to play a bigger role in nurturing athletes.
"Student athletes can and should be the main force of China's competitive sports, like Western countries," said Yang Liguo, secretary-general of the students' sports association under the Ministry of Education.
In the US, colleges offer handsome scholarships to candidates with sporting talent so they can represent them in National College Athletic Association (NCAA) competitions. It is a system that has produced some of the world's best performers, with graduates from Stanford University in California going on to win a combined 222 Olympic Games medals, including 111 for the US national team.
The NCAA system also ensures students only spend 20 hours a week in sports training, meaning they have plenty of time for academic study.
Universities here are keen to copy the success of the NCAA. According to Yang at least 235 Chinese colleges already operate sports teams, allowing tens of thousands of students to pursue their athletic dreams and get a college degree.
Students at Tsinghua University have led the way by claiming five gold medals and six silver in track and field and shooting at the last two National Games. Student Liu Tianyou, 25, also won the men's 10m air rifle individual and team events at the 2006 Asian Games in Doha, capital of Qatar.