NEW YORK - AT&T announced on Thursday the close of sponsorship deal with scandal-tainted golfer Tiger Woods.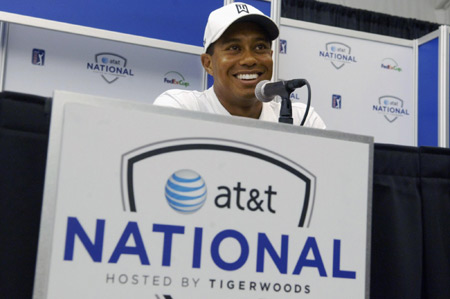 Tiger Woods speaks at a news conference at the AT&T National PGA golf tournament at the Congressional Country Club in Bethesda, Maryland, in this July 3, 2007 file image. Woods' decision to withdraw from professional golf due to a sex scandal raised questions on December 11, 2009 about his future as a magnet for corporate sponsors, with AT&T saying it was evaluating its ties. [Agencies] 
"We are ending our sponsorship agreement with Tiger Woods and wish him well in the future," the company said in a statement.
Accenture and Gillette have already pulled out of sponsorship deals with Woods after he admitted to "infidelity" to his wife.
Under the sponsorship deal, AT&T logo appeared on the golfer's bag while the company has said it will continue to host the AT&T National PGA event in July
Woods, one of the world's most famous athletes, announced earlier this month that he was taking an indefinite break from professional golf to "repair the damage" caused by his marital infidelity.
Once seen as a squeaky clean athletic role model, Woods, 33, has been tainted by allegations of serial infidelities with as many as 10 women around the United States including various waitresses,nightclub hostesses and porn stars.
Woods and his wife Elin Nordegren, 29, have two children, a two- year-old daughter and a 10-month-old son.
Woods has had a phenomenal career, earning more than 1 billion dollars in his rapid 13-year rise, commanding huge fees for sports endorsements and revolutionizing sports marketing.