NEW YORK: Tiger Woods's cheating was no secret to other golfers, Swedish LPGA star Helen Alfredsson said on Wednesday, while Golf Digest announced it was putting the 14-time major winner's advice column on ice.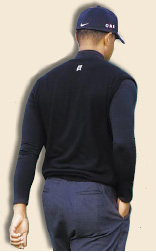 Alfredsson became the first professional golfer to say she had heard stories about Woods cheating on his Swedish wife, Elin, the New York Daily News reported, citing her interview with Swedish television station TV4.
"I heard it last summer during the British Open," Alfredsson said, describing Woods as "cold" and saying there was "something odd about him" that belied the clean image he enjoyed until the sex scandal erupted four weeks ago.
"In the quietest water swims the ugliest fish," Alfredsson said.
Woods, a week shy of his 34th birthday, has indefinitely halted his golf career to cope with personal issues in the wake of a media storm that has seen at least 14 women claim affairs with him.
Related readings:


 Woods, Elin go separate ways for holidays


 Friend says Woods thought of affairs as 'perk'


 Madonna linked to Tiger Woods - through doctor

 British bookies take bets on Woods' divorce


Woods' doctor probed in doping case
"If he just paid for the escorts, I understand it a bit more. Then no one needed to know," Alfredsson said. "But now he did everything and a girlfriend and everything."
Alfredsson, 44, said she wondered why Woods even bothered to marry when he was reportedly using Elin's pregnancy as an excuse for not being with a woman a full 12 months before his first child was born.
"When he says to the girl that he cannot see her because he has family matters, when Elin will give birth, is he not a bit cold?" Alfredsson said.
Elin has reportedly hired a divorce attorney and was said to be most upset about Woods carrying on one relationship for three years and another while she was pregnant.
Golf Digest, which pictured Woods and US President Barack Obama on its latest cover before the scandal broke, said Woods will not write his usual monthly pieces for the magazine during his professional hiatus.
"Golf Digest has had a long-standing relationship with Tiger Woods to provide instruction articles for the magazine and we do not have any plans to change that," the magazine said.
"We respect Tiger's decision to take a break from professional golf and focus on his family. Tiger's bylined instruction articles will not be published in Golf Digest during his time away from the game."
Woods has writen for Golf Digest since turning professional in 1996.
AFP