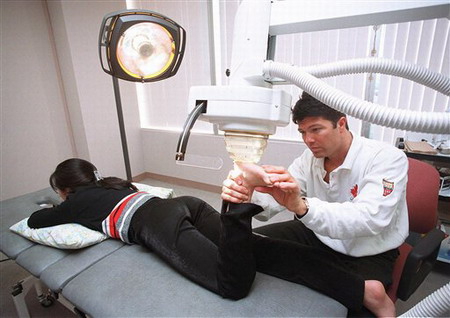 This December 16, 1999, photo shows Dr. Anthony Galea treating a patient with shock wave therapy at the Institute of Sports Medicine in Toronto. [Agencies]
WASHINGTON: A Canadian doctor who has treated golfer Tiger Woods and many other pro athletes is under a joint US-Canadian investigation for possibly providing performance-enhancing drugs, a US official said.
The official familiar with the investigation said Canadian authorities were investigating Dr. Anthony Galea, who was arrested on October 15 in Toronto, and the FBI was brought into the case.
The official said on Tuesday the investigation was being conducted by the Royal Canadian Mounted Police. The official was not authorized to discuss the case and therefore spoke on condition of anonymity.
Galea's lawyer denied any wrongdoing at a news conference in Toronto on Tuesday. Attorney Brian H. Greenspan said he expects Galea will face three charges in Canadian court on Friday, but said he was unaware of the FBI's involvement.
"He looks forward to being vindicated," Greenspan said. "He's a physician who has always engaged in lawful practices. He's never been involved in any improprieties, any misconduct, any unlawful conduct."
Greenspan said one charge would be for conspiracy, with the other two coming under the Food and Drug Act and the Controlled Substances Act. He did not know the specific charges.
"We can't conceive of them being anything other than minor," he said.
Greenspan said the investigation began when the doctor's assistant, who often drove around Galea, was stopped at the Canada-US border. Human growth hormone and Actovegin, a drug extracted from calf's blood, were found in Galea's bag in the car, The New York Times reported.
Using, selling or importing Actovegin is illegal in the United States.
Greenspan confirmed Galea has used HGH himself and prescribed it to non-athlete patients over the age of 40 to improve their quality of life, but said he has never given it to athletes.
"It's a therapeutic substance that extends life, and in his view the literature supports the prudent use of HGH in older people that enhances their general health," he said.
The FBI has opened an investigation based in part on medical records found on Galea's computer relating to several professional athletes, people briefed on the inquiry told the Times on condition of anonymity because they did not want to be identified discussing a continuing investigation.
The anonymous sources did not disclose the names of the athletes, and Galea told the newspaper "it would be impossible" for investigators to have found material linking his athletes to performance-enhancing drugs.
The Times reported that Galea visited Woods' home in Florida at least four times in February and March to provide platelet-rich plasma therapy after his agents at International Management Group became concerned by the golfer's slow recovery from June 2008 knee surgery.
In an e-mail to the AP, agent Mark Steinberg said: "No one at IMG has ever met or recommended Dr. Galea, nor were we worried about the progress of Tiger's recovery, as the Times falsely reported. The treatment Tiger received is a widely accepted therapy and to suggest some connection with illegality is recklessly irresponsible."